Roast pork eye of round with mustard and tarragon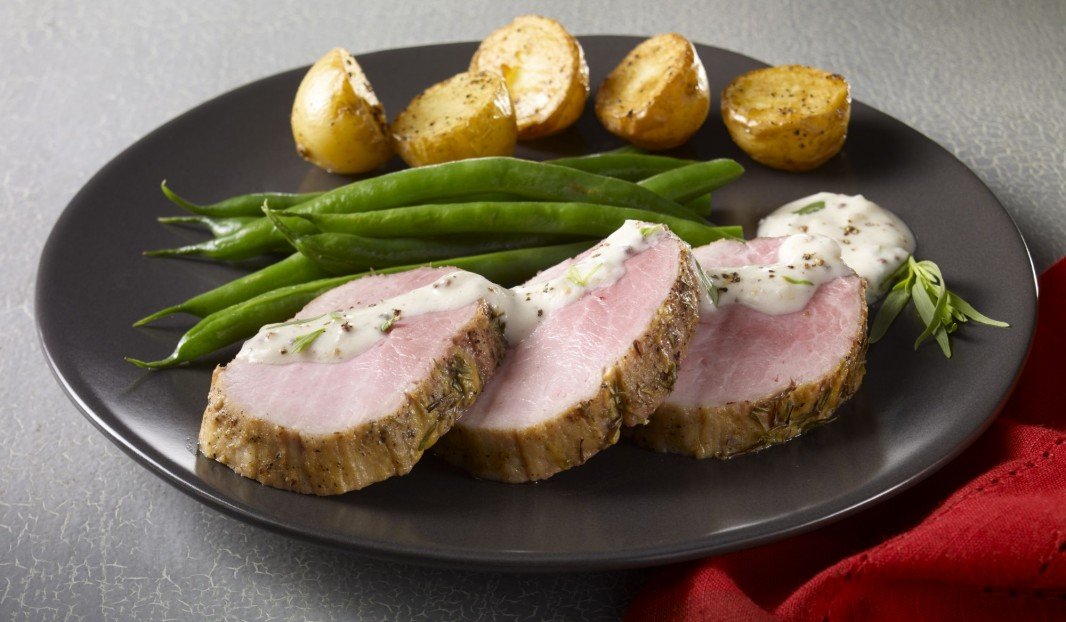 ---
---
preparation time
00:15 15min
---
---
---
ingredients
1 package Olymel pork eye of round
30 ml (2 tbsp.) olive oil
30 ml (2 tbsp.) Dijon mustard
250 ml (1 cup) 15% cooking cream
125 ml (½ cup) chicken stock
65 ml (¼ cup) white wine
2 shallots, finely sliced
30 ml (2 tbsp.) old-fashioned mustard
1 tbsp. fresh tarragon, chopped
Thyme, fresh or dried
Salt and fresh ground pepper, to taste
instructions
Preheat oven to 180°C (350°F).
Heat a pan over high heat with 15 ml (1 tbsp.) olive oil
Brown the pork eye of round. Remove from the pan, brush with Dijon mustard, sprinkle with thyme and salt and pepper, and transfer to a baking dish.
Roast 15 to 17 minutes until meat reaches an internal temperature of 165°F (75°C).
During roasting, add remaining olive oil to a pan with the shallots and cook stirring occasionally for one minute. Add the wine and reduce for two minutes. Add the stock, cream and tarragon and correct seasoning. - Bring to a boil and simmer five minutes, then whisk in the old-fashioned mustard and keep warm.
Remove pork eye of round from oven and tent with aluminum foil.
Let rest 5 minutes before slicing.
Pour sauce over meat.
---