Braised Pork Belly with Maple Glaze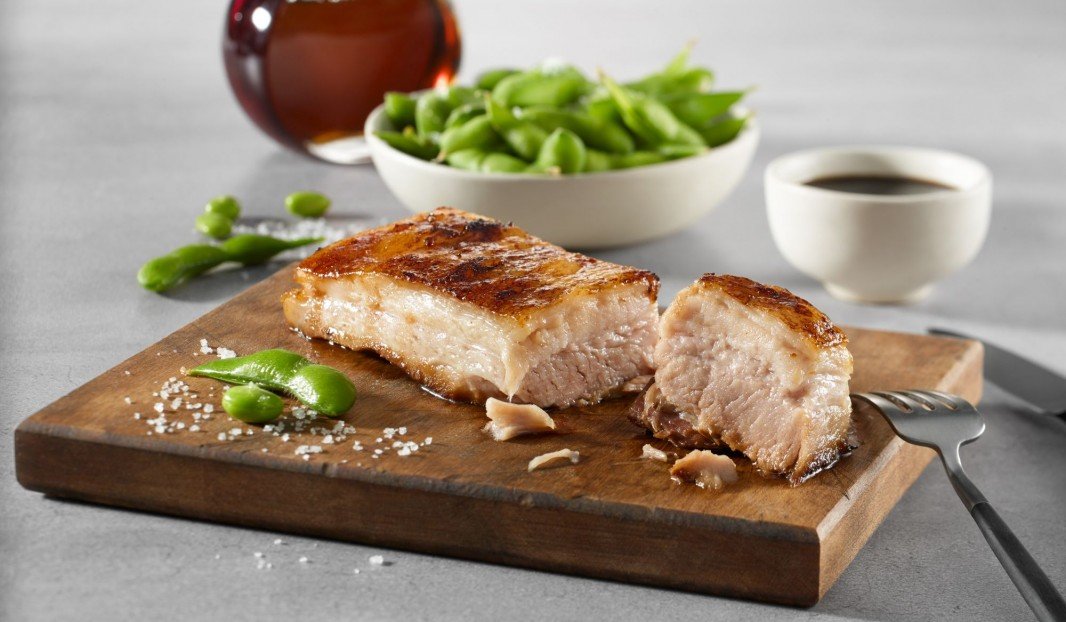 ---
---
preparation time
00:15 15min
---
Cooking time
00:420 420min
---
---
ingredients
1 Olymel pork belly - 2.6 kg
500 ml (2 cups) apple juice
2 beers of your choice
125 ml brown sugar
1 large onion, finely chopped
6 cloves garlic, coarsely chopped
3 sprigs rosemary
30 ml (2 tbsp.) olive oil
Salt and fresh ground black pepper
Maple glaze
125 ml (½ cup) maple syrup
45 ml (3 tbsp.) soy sauce
45 ml (3 tbsp. ) balsamic vinegar
instructions
Preheat oven to 325°F (165°C).
Add the apple juice, beer, onion, garlic and rosemary to a roasting pan.
Brush pork belly with olive oil, season with salt and pepper and place in the pan.
Cover with aluminum foil and cook in oven for 7 hours.
Remove the pork belly and place on a baking sheet covered with parchment paper.
Place a second baking sheet over the meat with a weight on top. Refrigerate 12 hours. Cut pork belly into 12 equal rectangles and transfer to a baking sheet. Brush meat with maple glaze.
Cook 8 minutes in a 375°F (190°C) oven, then raise temperature to broil towards the end of cooking for a nice crispy skin.
---