Pork Loin with Pear and Dark Rum sauce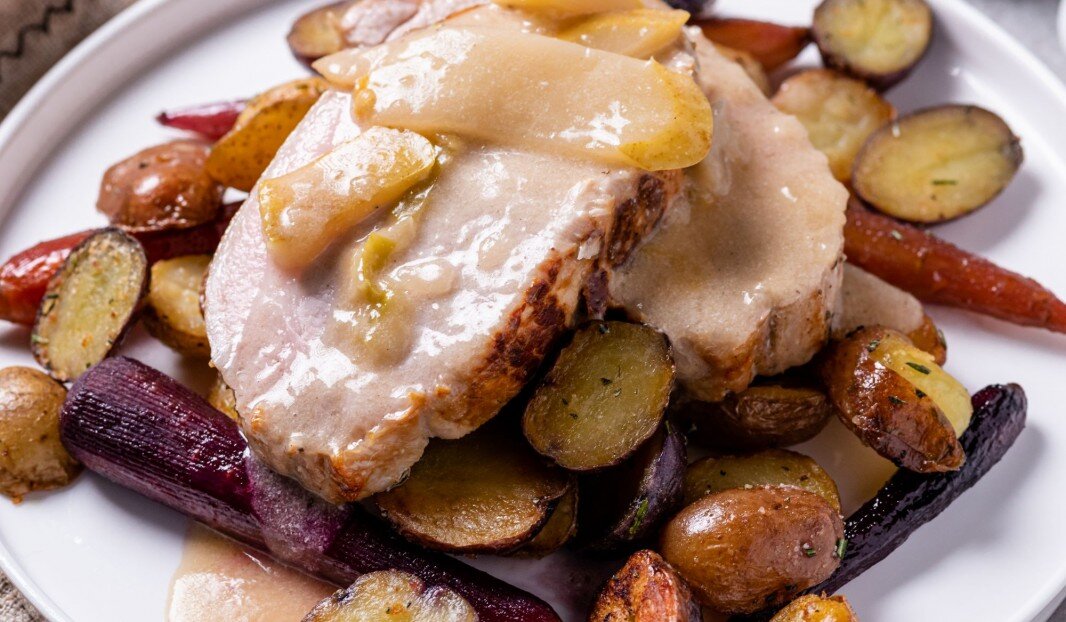 ---
---
preparation time
00:35 35min
---
---
---
---
Created by "le_foodie_mtl"
ingredients
1 Olymel half loin of pork
1 yellow onion, thinly sliced
Salt and pepper to taste
Ingredients for the sauce
2 Bartlett pears, thinly sliced
1 green apple, thinly sliced
2/3 cup dark spiced rum
2 cups chicken stock
¼ cup butter
¼ tsp. ground cardamom
¼ cup 15% cooking cream
2 tbsp. corn starch
2 tbsp. cold water
Ingredients for maple carrots side dish
454 g multi-colour Nantes carrots
3 tbsp. butter
2 tbsp. maple syrup
¾ cup vegetable stock
Ingredients for the grelot potatoes side dish
680 g grelots potatoes, halved
2 sprigs of fresh rosemary, finely chopped
3 tbsp. canola or vegetable oil
2 cloves garlic, minced
Salt and pepper to taste
instructions
Preheat oven to 400°F.
In a large oven safe frying pan, brown pork half loin about 2-3 minutes per side.
In the same pan, turn the pork half loin fat side up and top with the onion.
Roast 45 to 50 minutes or until internal temperature of the meat reaches 145°F.
In a medium size saucepan over low heat, start the sauce by melting the butter.
Add the pear and apple slices and cook about 5 minutes.
Add the ground cardamom and dark spiced rum.
Make sure stove hood fan is off. Place a lit match over the pan to flambé the rum.
Remove pan from heat and let flames go out on their own.
Return pan to heat and add chicken stock and cream. Let simmer about 10 minutes.
In a small bowl, dissolve the corn starch in the cold water.
Add the mixture to the pan and stir to thicken sauce.
Preparation of sides
In a large pan over low heat, add the canola oil and grelot potatoes.
Gently fry the potatoes and then cover. Keep heat low so they don't burn. Shake pan regularly to keep potatoes from sticking.
This step could take 15 to 20 minutes.
When potatoes start to brown, add the rosemary, garlic, salt and pepper. Mix well and continue cooking about 3 minutes more. Set aside.
In a large pan over medium low heat, add chicken stock and carrots.
Turn carrots so they cook evenly.
Let simmer about 10 minutes or until liquid is absorbed.
Add the butter and maple syrup to the pan and cook the carrots. They will caramelize.
On each plate serve the grelot potatoes, carrots and half pork loin, drizzled over with its sauce.
---