Spiced Pork Belly Sandwiches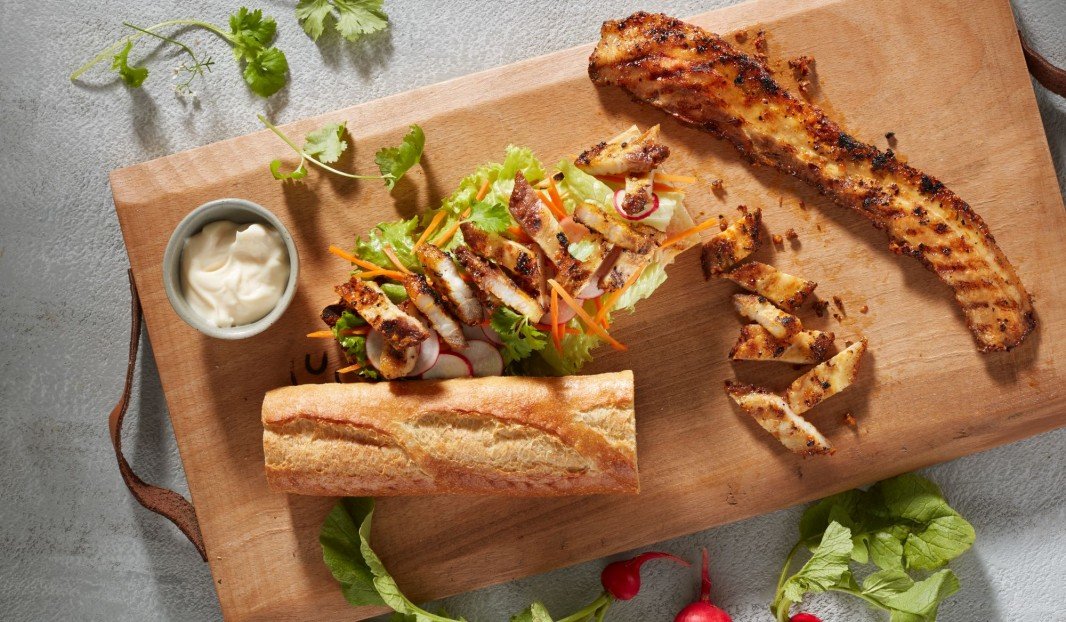 ---
---
preparation time
00:20 20min
---
---
---
ingredients
1 Olymel pork belly - 2.6 kg
Spice blend
4 cloves garlic, finely chopped
30 ml (2 tbsp.) salt
30 ml (2 tbsp.) sugar
30 ml (2 tbsp.) mild or smoked paprika
15 ml (1 tbsp.) ground cumin
15 ml (1 tbsp.) ground black pepper
15 ml (1 tbsp.) mustard powder
5 ml (1 tsp.) Cayenne pepperSandwich
3 baguettes cut into 3 sections and split lengthwise
1 curly lettuce, washed and dried
Mayonnaise or spicy mayonnaise to taste
2 carrots, grated
12 radishes, thinly sliced
1 cup fresh cilantro (optional)
instructions
Combine all seasoning ingredients and rub evenly over both sides of the pork belly.
Cut the pork belly into 1 cm thick slices.
Preheat barbecue to 350°F for indirect cooking, with one portion of the grill that is not over direct heat.
Grill the pork belly strips using indirect heat for about 20 minutes turning frequently to obtain optimal, even colouring. Do not place pork belly slices over open flame. Do not overload your grill. Melting fat could cause flare ups. Keep slices warm after cooking.
Toast the inside of the baguette pieces. Build the sandwiches by brushing the toasted baguette with mayonnaise and garnish with lettuce, carrot, radish and cilantro.
---