Ham, Asparagus and Shallot & Chive Boursin on Tramezzini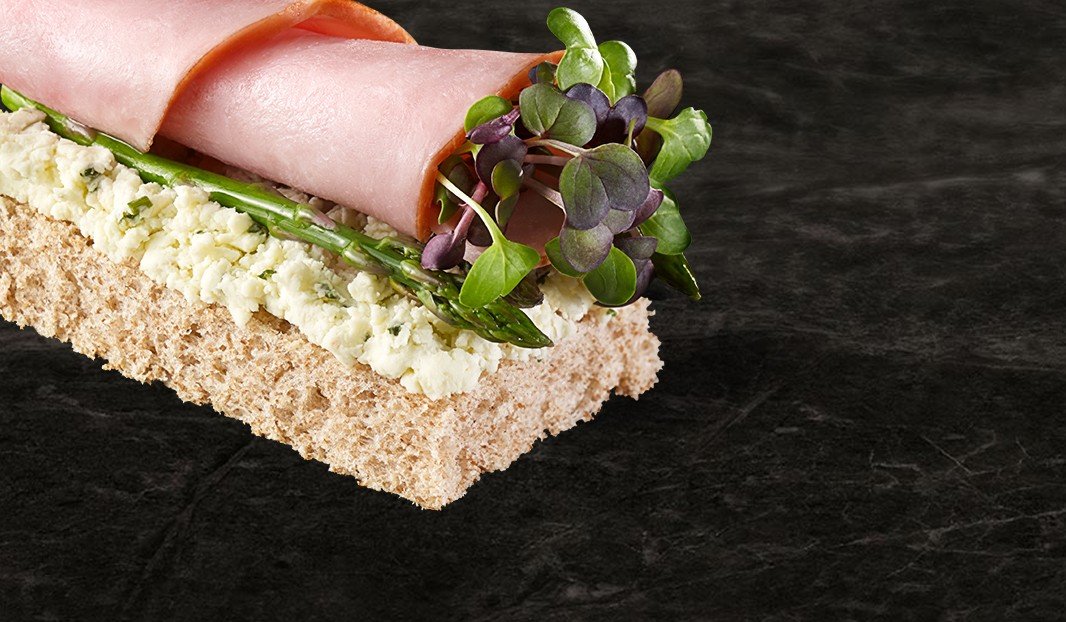 ---
---
preparation time
00:20 20min
---
---
---
ingredients
1 package (150 g) of shaved old fashionned smoked ham smart and natural
1 package shallot & chive Boursin cheese
1 bunch (24) thin asparagus
2 tbsp. (30 ml) lemon olive oil
2 slices brown tramezzini bread
Pink radish micro-sprouts (to taste)
Salt
instructions
Prepare the asparagus keeping the tender tips and reserving the stems for another use.
Bring 1 litre (4 cups) of water to a boil, salt generously and plunge in the asparagus, waiting until the water returns to a boil. Remove and plunge asparagus into an ice water bath, then drain well.
Place asparagus on a plate, drizzle over with lemon olive oil and roll a few times to coat. Sprinkle with pepper and set aside.
Place the tramezzini bread on a work surface, spread with the shallot & chive Boursin, then cut into 5 identical rectangles.
Cut the ham slices in 2, and roll up.
Place 2 to 3 asparagus tips plus 1 ham roll on each bread base.
Garnish with micro-sprouts and place the tramezzini on a serving board.
Serve immediately.
---