Pork Fillet with Cranberry Port Sauce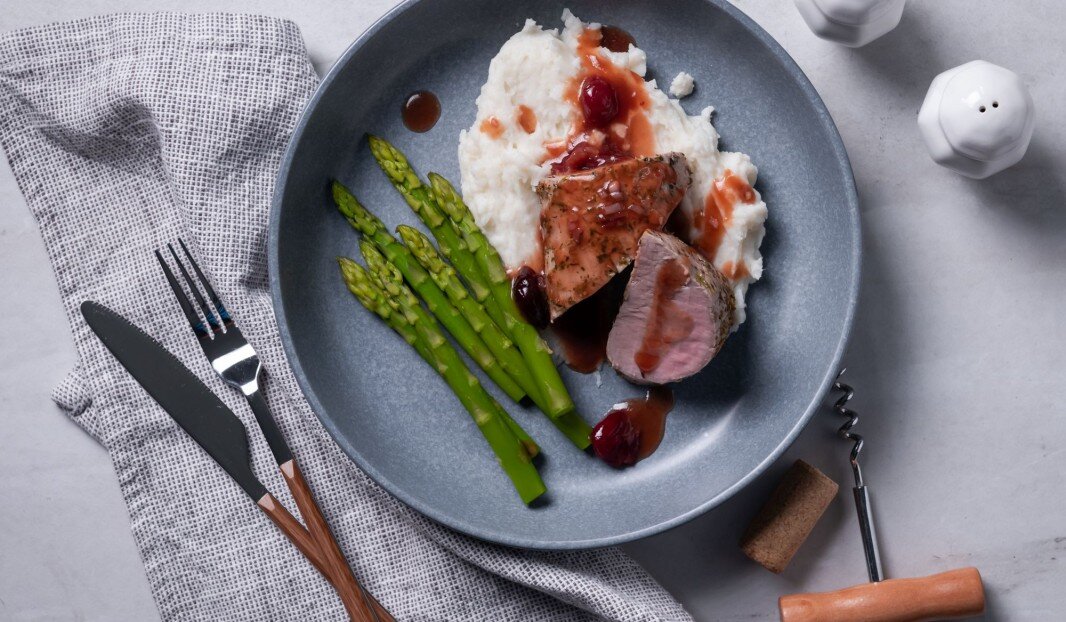 ---
---
preparation time
00:30 30min
---
---
---
---
Created by "le_foodie_mtl"
ingredients
Pork fillets
2 Olymel fresh pork fillets
¼ cup olive oil
1 tsp. dried oregano
1 tsp. dried thyme
2 cloves garlic, minced
Salt and pepper to taste
Cranberry port sauce
½ cup frozen cranberries
1 French shallot, minced
1 tbsp. butter
1 tbsp. olive oil
1 cup port
300 ml store-bought demi-glace sauce, made according to instructions on the package
1 sprig rosemary
Salt and pepper to taste
instructions
Preheat oven to 400°F.
In a medium size bowl, add the olive oil, oregano, thyme, garlic and salt and pepper. Mix well.
Place pork fillets in the bowl and let marinate 15 to 20 minutes.
In an oven-safe pan, brown the pork fillets about 2-3 minutes on each side.
Roast for about 15 minutes or until internal temperature of the meat reaches 145°F.
Meanwhile, in a medium size sauce pan over low heat, melt the butter.
Add the olive oil and French shallots. Sauté about 2 minutes.
To the pan add the frozen cranberries. Cook for about 3 minutes.
Add the port, the demi-glace sauce and the rosemary sprig. Mix well and let simmer about 7 minutes.
When fillets are cooked, place them on a baking sheet equipped with a rack, tent loosely with aluminum foil and let stand 5 minutes.
Slice fillets into rounds and drizzle over with the sauce.
We suggest serving them with asparagus and mashed potatoes.
---