Ham on French Toast Gratiné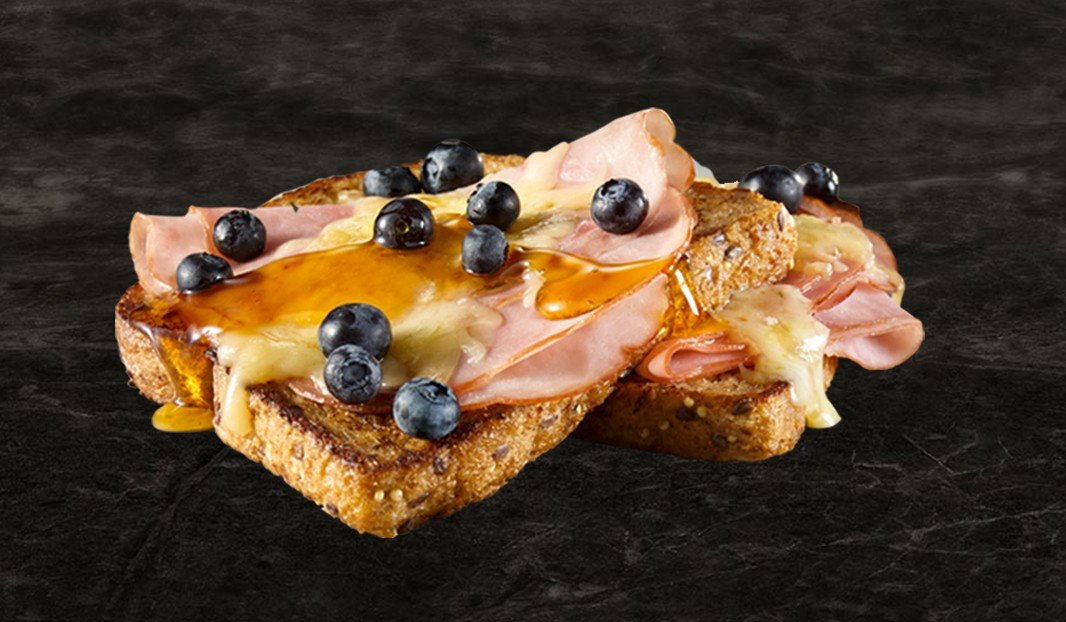 ---
---
preparation time
00:15 15min
---
---
---
ingredients
8 slices old-fashioned smoked ham
4 eggs
½ cup (125 ml) milk
½ cup (125 ml) 35% cream
3 tbsp. (45 ml) brown sugar
½ tsp. (2.5 ml) vanilla
8 slices honey whole wheat bread
200 g Louis D'Or cheese, grated
Butter for cooking
Salt
Maple syrup, to taste
Blueberries, for garnish
instructions
Break the eggs into a small mixing bowl, pour in the milk, cream and vanilla, salt lightly and whisk together thoroughly.
Place the mixture in a pie plate or flat-bottomed bowl. Set aside.
Preheat oven to 200°F and place a small baking sheet inside.
Heat a large non-stick pan over medium heat and melt 1 spoon of butter.
When butter is almost melted, dip in 1 slice of bread and turn to ensure bread is soaked yet not falling apart. Lower the bread slice into the foaming butter and repeat the process with 1 or 2 more slices.
When the bottoms are nicely browned, using a flexible spatula, turn the slices and cook 1 minute longer. Remove from heat and place in oven.
Repeat the procedure with the remaining bread slices placing them in the oven to keep warm as you go.
Place the French toast side by side on a baking sheet.
Place 1 slice of ham on each, then some of the grated Louis d'Or cheese.
Turn on the broiler and broil the French toast for 2 to 3 minutes.
Place 2 pieces on each plate. Drizzle over with maple syrup and decorate with a few blueberries. Serve hot.
---