Lasagna with ham, grilled vegetables and cheese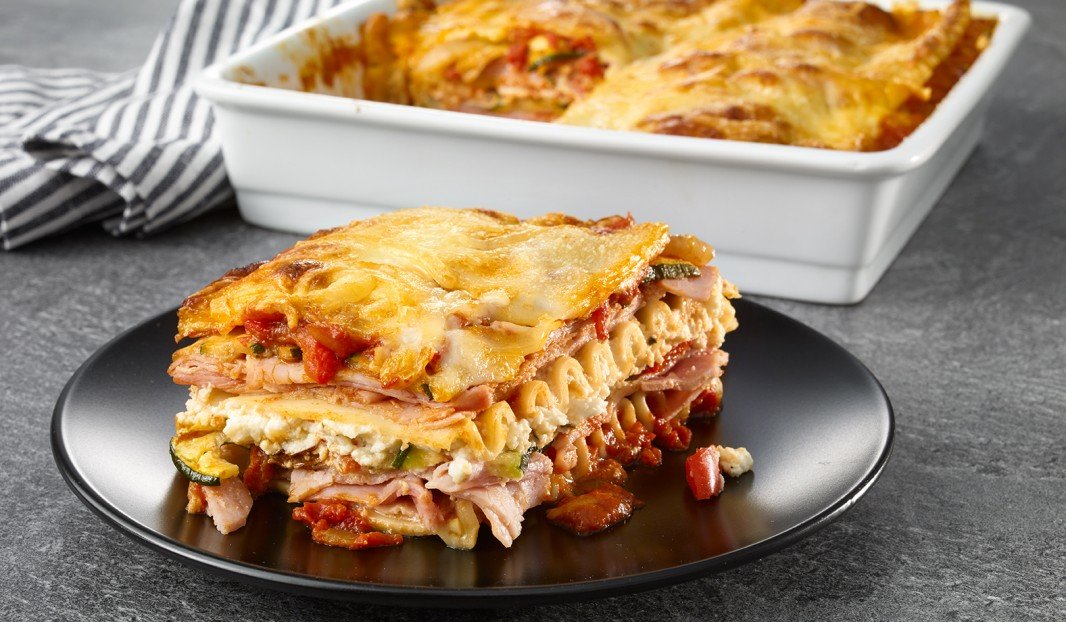 ---
---
preparation time
00:50 50min
---
---
---
« For quicker preparation, use store-bought marinara sauce. »
---
Lasagna with ham and grilled vegetables is the perfect dish to help you come to terms with life on a Monday night, when it seems like the whole week is already weighing on you.
ingredients
450 g of shaved traditional cooked ham
250 ml tomato juice (only if using "oven-ready" pasta)
475 g ricotta
1 package lasagna noodles, cooked and drained, or "oven ready" lasagna
150 g grated "St-Guillaume" mozzarella cheese
75 g grated "Parmigiano Il Villaggio" cheese
2 egg whites
1 ml (¼ tsp.) crushed chili
1 ml (¼ tsp.) dried oregano
30 ml (2 tbsp.) fresh basil, chopped
Nutmeg, freshly grated
Salt and freshly ground pepper to taste
Grilled vegetables
2 green zucchini, 1 red pepper, 1 red onion
30 ml (2 tbsp.) olive oil
2.5 ml (½ tsp.) rosemary
Salt and freshly ground pepper
Marinara sauce (1 litre)
1 medium onion, chopped
3 cloves garlic, chopped
45 ml (3 tbsp.) olive oil
1 can (796 ml) whole Italian tomatoes
1 can (156 ml) tomato paste
1 ml (¼ tsp.) sugar
30 ml (2 tbsp.) fresh basil, snipped
Salt and pepper to taste
instructions
Marinara sauce
In a saucepan, sweat the onion and the garlic in the oil. Do not overcook. Add the tomatoes, crushed by hand.
Add the tomato paste and sugar; season.
Bring to a boil and let simmer slowly for 30 minutes. Remove from heat; add the basil.
Adjust seasoning and set aside, keeping hot.
Grilled vegetables
Preheat the oven to 220°C (425°F), or the barbecue on high setting.
Cut the zucchini into long slices, and the pepper and onion into quarters. On a baking sheet, combine the vegetables with the olive oil and the rosemary, add salt and pepper, and completely coat the vegetables.
Bake (in the oven or the barbecue), stirring from time to time, until the vegetables are browned.
lasagna
In a bowl, combine the ricotta, egg whites, chili, basil, oregano, nutmeg, pepper, 50 g mozzarella and 35 g ricotta. Mix well and set aside.
In a gratin dish, alternate layers of sauce, pasta, ham and grilled vegetables, with the cheese mix in the centre. Finish with the rest of the parmesan and mozzarella.
Add 250 ml tomato juice (for "oven-ready" pasta only). Bake at 177°C (350°F) for 45 minutes, and let stand 10 minutes before serving.
Serve in plates with the Marinara sauce.
---