Arugula salad with peppered bacon, balsamic vinaigrette and goat cheese croutons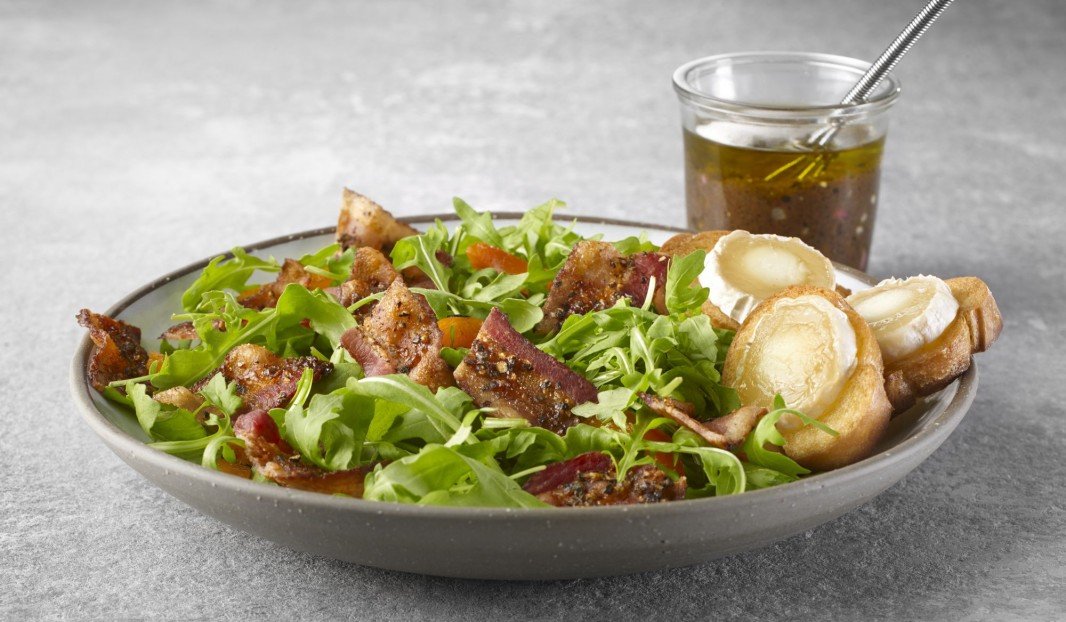 ---
---
preparation time
00:10 10min
00:10 10min
---
Cooking time
00:10 10min
00:10 10min
---
---
---
Arugula salad with peppered bacon and goat cheese croutons is like your everyday salad underwent a total transformation! Get ready to share the recipe with all your colleagues; no one can resist this made-over marvel.
ingredients
375 g Olymel maple flavoured bacon
6 cups arugula lettuce
½ roasted red pepper, julienned
½ baguette cut into 12 slices
30 ml olive oil
350 g goat cheese
1 tbsp. brown sugar
1 tsp. freshly ground pepper
Balsamic vinaigrette
1 shallot chopped fine
15 ml (1 tbsp.) Dijon mustard
45 ml (3 tbsp.) balsamic vinegar
125 ml (1/3 cup) olive oil
Salt and freshly ground pepper to taste
instructions
Vinaigrette
In a large bowl, combine shallot with mustard, slowly whisk in olive oil followed by the vinegar. Salt and pepper to taste. Set aside.
Peppered bacon
Preheat oven to 400 °F (205 °C)
Combine brown sugar and pepper. Lay out bacon strips on a baking sheet. Sprinkle pepper/sugar mix evenly over the bacon strips and bake until crisp. Place strips on absorbent paper to drain, chill, then chop into large pieces.
Goat cheese croutons
Brush olive oil onto baguette slices. Bake 4 minutes then remove from oven.
Spread cheese evenly over the croutons. Bake until cheese is hot taking care not to burn croutons.
Salad
In a large bowl, toss together the lettuce, peppers and the vinaigrette to taste.
Serve on salad plates topped with peppered bacon and accompanied by three warm chevron croutons for each plate. Serve immediately.
---