Green pea soup with crème fraîche and Black Forest ham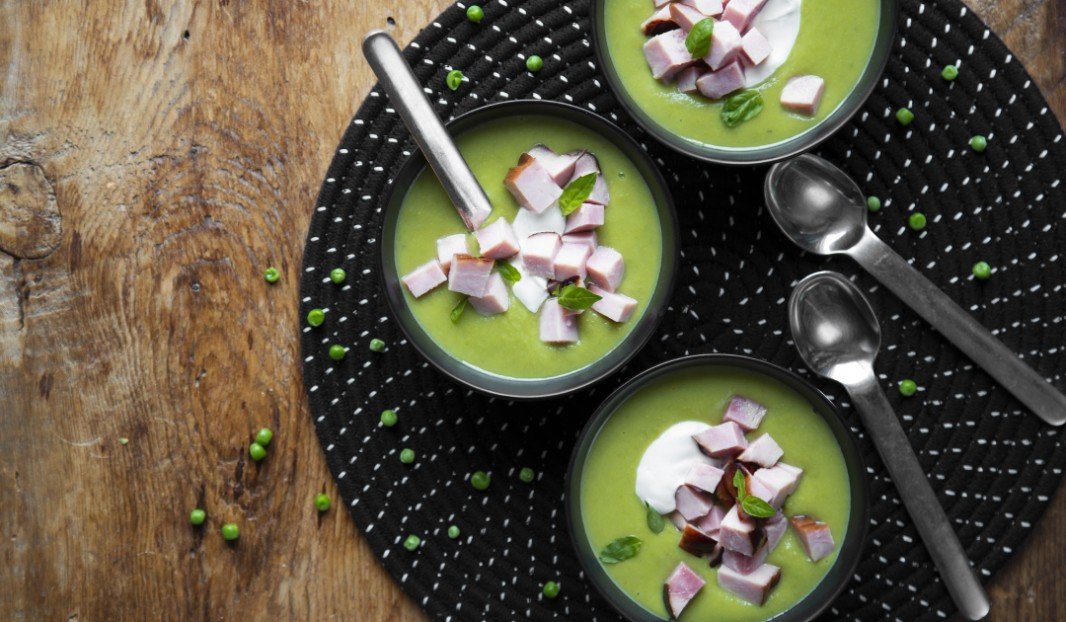 ---
---
preparation time
00:12 12min
---
---
---
---
This version 2.0 of traditional split pea soup is as delicious as it is colourful. Your grandmother will be so hap-pea (sorry, we couldn't help ourselves).
ingredients
One Olymel Black Forest smoked half ham, cut into cubes
750 g of frozen green peas
1 yellow onion, chopped
2 celery stalks, diced
2 carrots, diced
2 yellow potatoes, cut into cubes
4 cloves of garlic, peeled and roughly chopped
1 L of chicken stock
Basil leaves (3 to 4 stalks worth)
1/2 cup of sour cream
Vegetable oil
Salt and pepper
instructions
Heat the oil in a pan over medium-high heat.
Cook the onion, celery and carrot for 3 to 4 minutes. Season with salt and pepper.
Add the potatoes, green peas and stock. Bring to the boil.
Simmer for 15 to 20 minutes until the potatoes are tender.
Using a food processor or stick blender, blend the soup until it is smooth. Add more seasoning if necessary.
Serve in bowls and garnish with crème fraîche or sour cream, cubes of Black Forest ham and a few basil leaves.
---