Ham, Pepper Boursin and Tomato Confit on Baguette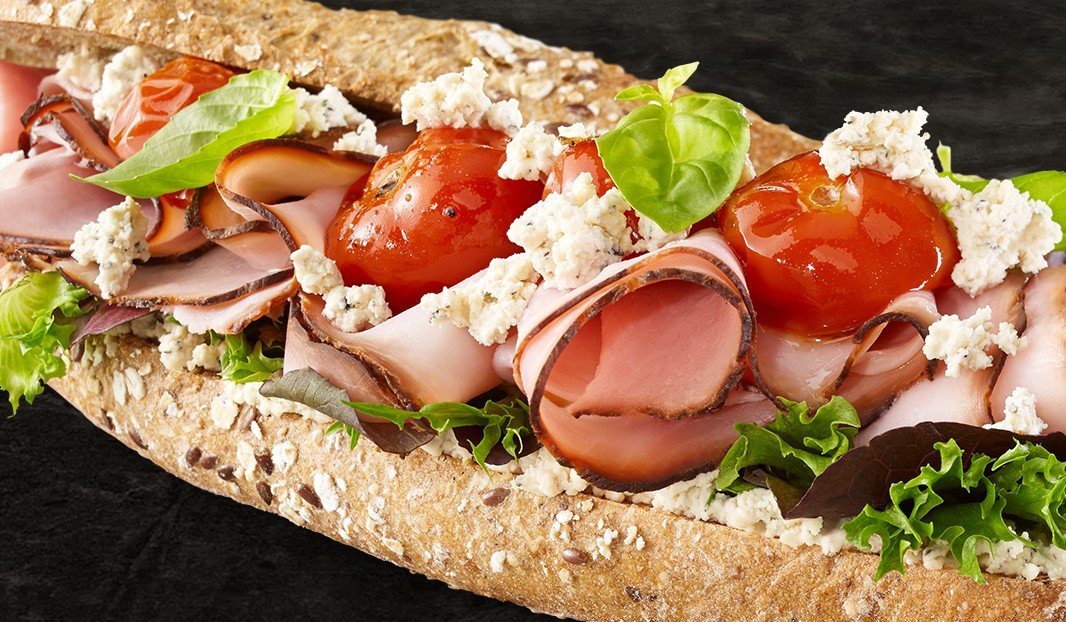 ---
---
preparation time
00:20 20min
---
---
---
ingredients
150 g Black Forest smoked ham, sliced thin
½ package cracked pepper Boursin
4 cups (1 l) cherry tomatoes
1 sprig fresh rosemary
2 sprigs fresh marjoram
2 cloves garlic, cut into 4
Olive oil
1 sprouted grain half-baguette
2 small handfuls spring mix lettuce
Basil leaves
Salt
instructions
Preheat oven to 300°F (150°C).
Place tomatoes on a baking sheet just big enough to contain them side by side, Salt the tomatoes and add the herbs and garlic pieces, then pour over enough oil to come halfway up the tomatoes. Bake for 90 minutes.
Cut the sprouted grain half-baguette in 2 and toast lightly.
Spread the crumb with half the cracked pepper Boursin and arrange the spring mix lettuce leaves over top.
Fold the Black Forest hams slices in 4 and place on top of the lettuce.
Garnish with a few confit cherry tomatoes, and crumble the remaining Boursin cheese over top.
Garnish with basil leaves and serve immediately.
Refrigerate the remaining tomato confit in a sealed container topped off with the cooking oil. It keeps 1 week.
---