Pork Loin Kebabs with Whisky BBQ Sauce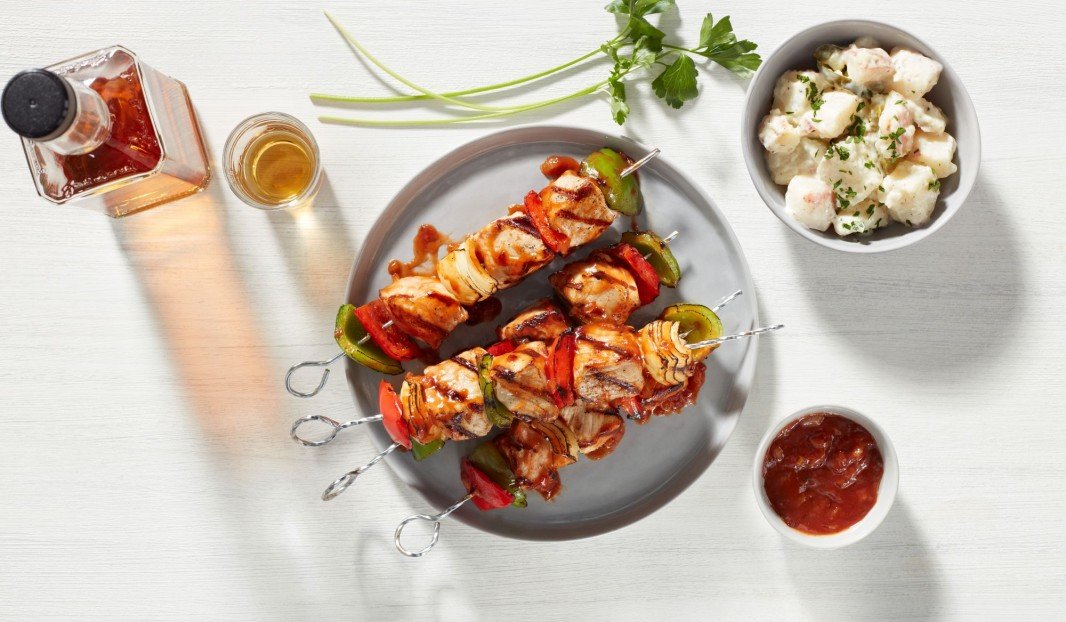 ---
---
preparation time
00:20 20min
---
---
---
ingredients
1 Olymel half pork loin - 2.5 kg
2 onions, quartered
2 green peppers, quartered
2 red peppers, quartered
Salt and freshly ground black pepper
Whisky BBQ sauce ingredients:
750 ml bottled BBQ sauce
1 medium onion, finely chopped
125 ml (½ cup) whisky
15 ml (1 tbsp.) olive oil
instructions
Whisky BBQ sauce: In a pot, combine the olive oil and chopped onions and cook over high heat, stirring frequently, until well browned.
Add the whisky and ignite to burn off the alcohol. Cook until flame goes out.
Add the BBQ sauce. Mix well and bring to a boil.
Lower heat and let simmer 5 minutes. Set aside.
Brochettes: Cut pork loin into 2.5 cm cubes
Build each skewer alternating pork cubes and vegetables.
Season with salt and pepper.
Preheat BBQ over high heat or oven to 425°F (220°C).
Oil BBQ grates thoroughly.
Cook the kebabs turning frequently and brushing them with the BBQ sauce until internal temperature of the meat reaches 74°C (165°F).
---