Balsamic Pork Tenderloins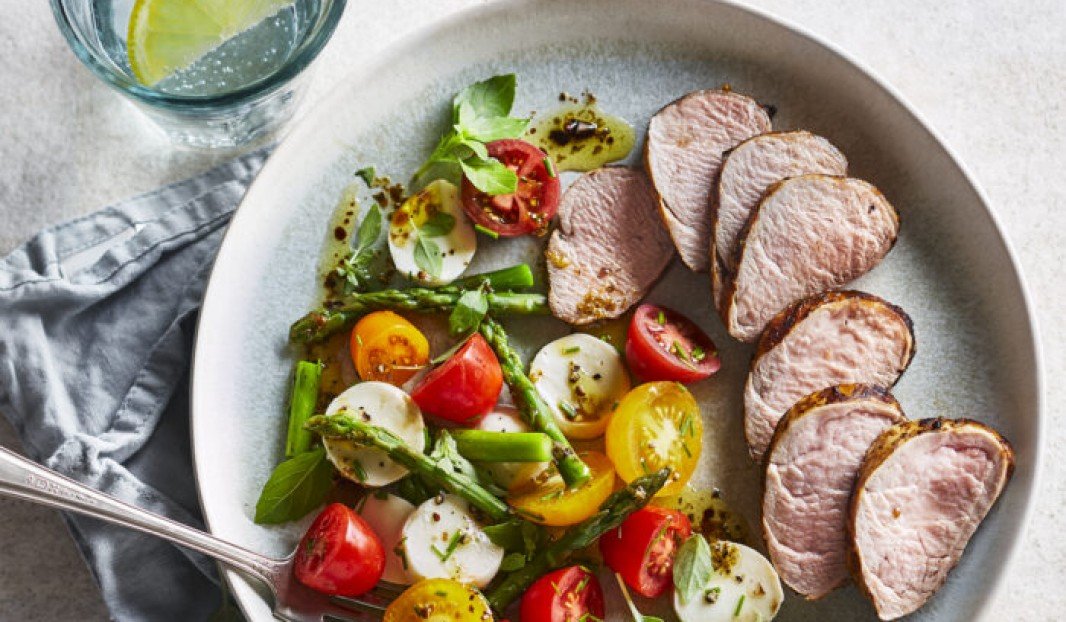 ---
---
preparation time
00:15 15min
---
---
---
---

This delicious recipe is courtesy of Le Porc du Québec
ingredients
2 Quebec pork tenderloins, about 340 g (3/4 lb.) each
1/2 cup (125 ml) olive oil
1/4 cup (50 ml) balsamic vinegar
2 tsp. (10 ml) dried oregano
2 cloves garlic, minced
Salt and freshly ground pepper, to taste
3 cups (750 ml) cherry tomatoes, halved
12 asparagus, parboiled and chopped
1/4 cup (50 ml) cocktail bocconcini, sliced
2 tbsp. (15 ml) each freshly chopped chives and basil
instructions
In a bowl, combine olive oil, balsamic vinegar, oregano and garlic. Set aside 60 mL (¼ cup) for tomato salad.
Add pork tenderloins to remaining marinade and coat well. Cover and let marinate in the fridge for at least 1 hour.
Preheat barbecue to high or use a skillet. Oil the grill.
Place pork tenderloin on grill. Lower BBQ to medium heat. For medium rare, grill pork tenderloins on all sides for about 12–15 minutes or until a thermometer inserted in the centre of the meat reads 60 °C (140 °F). Season with salt and pepper. Transfer to a plate and cover with foil. Let stand for 10 minutes.
Meanwhile, in a bowl, combine tomatoes, asparagus, bocconcini, chives, basil and reserved marinade. Season with salt and pepper.
Cut pork tenderloins into 1-cm (½-in.) slices. Serve with tomato salad.
---