---
How do you say deli meat in Spanish?
Easy: Serrano. Salchichón. Chorizo.
Three Spanish words that are absolutely going to change your life once you've tasted our 3 deli plate combos, each created using the all-new Spanish charcuterie selection from Olymel.
After just two bites you'll start feeling like you're under the warm Madrid sun, promise!
Fruit Fiesta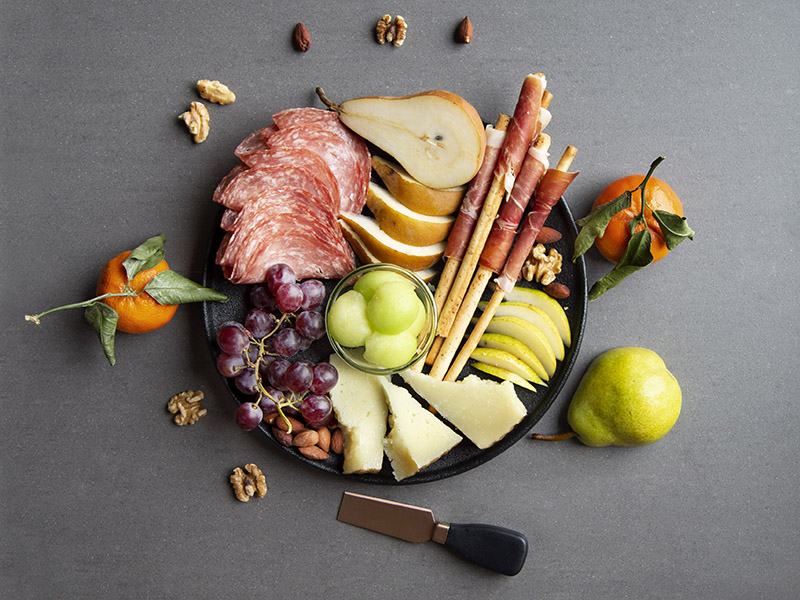 Combining:
Pears
Clementines
Red grapes
Honeydew melon, scooped into balls with a melon baller
Manchego cheese
Almonds and walnuts
Breadsticks
It goes without saying: it's important to eat fruit. The best way to add them to your diet is with charcuterie. (Deli meats are just like black clothes, they go well with everything.)
This platter has everything to satisfy your cravings for sweet & salty, and is perfect whether you're outside on the deck in summertime or binge watching Salt Fat Acid Heat. Or cable news. Or the Bible Hour. In fact you can accompany it with any show you like.
We figured  that out when we wrapped our Salchichón Extra sausage and Serrano ham around bread sticks (yes, breadsticks. They're actually edible utensils, didn't you know?).
To play it 100% Spanish, choose fruit that remind you of Spain, like peaches, pears, melon, apples, citrus and grapes. Tip from the pros: to make sure the fruit doesn't turn brown on the platter, brush some lemon juice on it.
In our version, we paired all that fruit with typically Spanish Manchego cheese and nuts, but you could also try marmalade, fruit jelly or onion confit.
---
The Gardener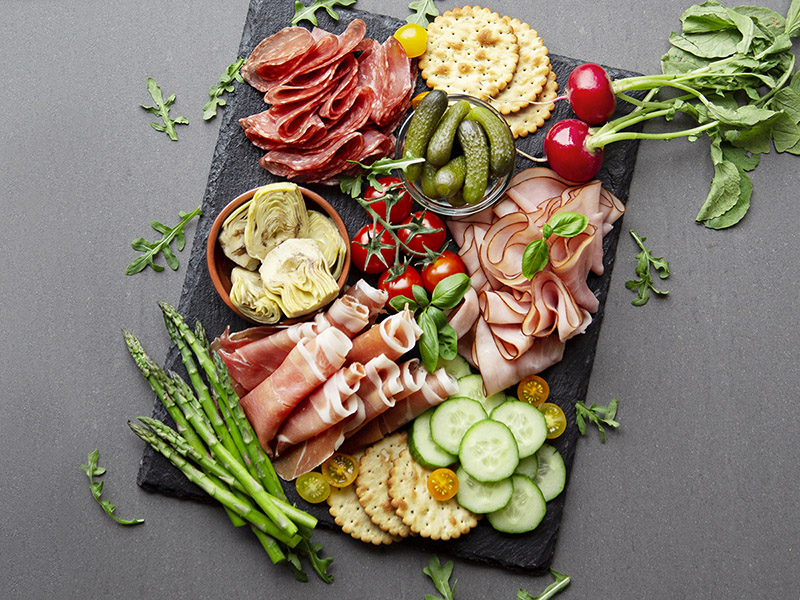 Combining:
Lightly blanched asparagus
Fresh cucumber
Grape tomatoes and tomatoes on the vine
Radishes with tops
Mini dill pickles
Grilled marinated artichoke hearts
Rosemary crackers
For presentation: basil and arugula leaves
The garden platter is like eating vegetables fresh from the garden, but without the dirt that tends to get stuck in your teeth. You can eat it using a garden trowel if you like, but we suggest simply using your fingers.
With freshness always in mind, we suggest piling the platter high with our Serrano ham, our Salchichón Extra sausage and their German cousin, smoked Black Forest ham.
As accompaniment: juicy tomatoes, fresh cucumbers, lightly blanched asparagus, radishes with their leafy tops and rosemary crackers. Tip from the pros: you can source your tomatoes directly from the streets of Spain after the Tomatina festival, even though the only kind you're likely to find are the crushed variety.
You can also go with marinated veggies as accompaniment, like grilled artichoke hearts and dill pickles.
Do like we did and add a special touch to your presentation: sprinkle the platter with arugula. Adding a few basil leaves creates the world's most incredible multisensory experience (ok, maybe not, but it will definitely smell better than car air freshener).
---
The gourmet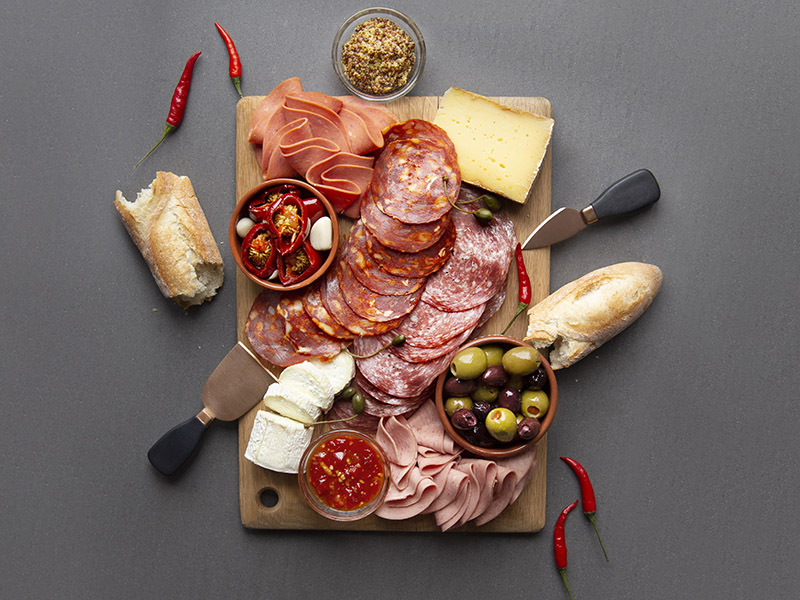 Combining:
Semi-firm cheese
Creamy goat's cheese
Black, green or stuffed pickled olives
Marinated peppers with garlic
Grainy mustard
Hot pepper salsa
Capers
For garnish: hot chili peppers
This is not a platter for los niños. This is the platter to RENDER YOUR BROTHER-IN-LAW AND HIS BIG SHOWY STEAKS speechless once and for all.
On the meat side, todas las carnes son bienvenidas. Go big (or even really big while you're at it)! Try combining our Chorizo sausage and our Salchichón Extra sausage. For a Quebecois touch, add a heap of our sliced Pepperoni and  Salami.
To enhance the flavours (and the happiness), add some fine cheeses. We like at least one firm cheese, a semi-firm cheese and a creamy one.  Ask your cheese vendor for an assortment that works for you. It's time to spoil yourself a little: you can keep the orange processed slices for another day.
For accompaniment, we suggest garnishing your platter with your finest ingredients.  We used a selection of olives, marinated peppers with garlic, tasty capers, grainy mustard, and a hot pepper salsa. You could also complete your masterpiece with olive tapenade or stuffed tomatoes if you prefer.
P.S. The hot chili peppers are for decoration, unless you want to add some serious heat to your life. Friendly tip: if you slice them, don't rub your eyes with your fingers afterwards.
---
We hope these Spanish-inspired platters made your mouth water… and gave you an opportunity to dust off your Spanish-English dictionary!
¡Buen provecho!
.
---