---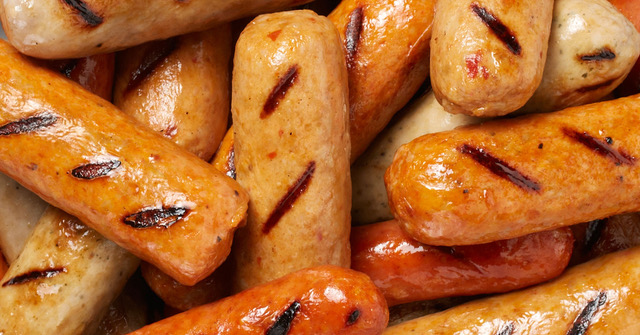 Whether you like them grilled to perfection or as an appetizer, alone or with friends, sausages always give people something to talk about. And if the subject does turn to sausages around the table or in the kitchen from time to time, it's rare that sausages get a full-blown forum where their virtues can be discussed at length.
At Olymel, we've decided to turn that situation around and bring you some vital facts about sausages.
So everything you always wanted to know about sausages… starts now!
Fact #1: Don't be fooled, size matters
Contrary to what some people might say, a sausage's size matters. Size, for instance, has an influence on cooking time. To ensure optimal doneness, we recommend grilling sausages slowly over low heat – what's your hurry?
What's more, a sausage's size will definitely have an impact on how many you can cram down before you're stuffed. There's a reason why the small Olymel packages contain four big sausages: as the saying goes, 4 sausages are better than 1!
Fact #2: Nothing beats a juicy sausage
How you cook a sausage definitely affects how it tastes. If a sausage needs to be well done, that does not mean it has to be dry. You can make sure the outside stays crisp by grilling it on a BBQ or on the stove.
Also, do your best not to pierce the skin while cooking: that's the secret to preserving all its juicy goodness. Cooking sausages whole rather than in pieces achieves the same result.
Fact #3: They come in all sizes, flavours and colours
To each his own sausage, as they say! One of the peculiarities of sausages is their taste can be enhanced through the addition of various ingredients, which can change their flavour and colour. They are also available in various formats.
The Olymel sausage family breaks down into three categories: European sausages, generally the largest varieties, smoked sausages, delicious in hot dog rolls, and breakfast sausages, the perfect start to your day. That means, whatever their preference, everyone can have the sausage with the perfect size, colour and flavour for them.
Fact #4: Sausages without their skin are just as good!
If they're delicious enjoyed whole, sausages can also be unpacked before you use them in recipes. Don't hesitate to unzip them keeping only the meat inside, because that's the tastiest part of all.
Sausage meat goes with so many great recipes, like stuffed turkey breast. Of course, you should also try to spice things up and remake your classic recipes like this moussaka or this meat loaf. Just let your imagination go!
Fact #5: Sausage parties are always in style
Because they are so incredibly versatile, sausages are the perfect meal to serve when you are having friends over. They can also become the focal point of the entire evening, or in the least, the evening's menu. With so many varieties available, you'll be sure you can find sausages that will please everyone.
For something fresh and exciting, try creating a tapas menu using different sausage varieties. Spicy Italian sausage meatballs with bocconcini, mild Toulouse sausage bites with avocado grapefruit salsa or potato pancakes with sausage and apple sauce are all recipes people can eat with their fingers. It's our modern twist on traditional cocktail sausages!
Fact #6: Nothing beats sausage and dip
With their elongated form, sausages are the perfect food for dipping in a multitude of sauces. That makes them excellent appetizers suitable for sharing.
If you're craving a dip, the classic hot dogs wrapped in bacon are delicious with ketchup or mustard. If you want to make your own dip, instead try these sausage bites, or these pogos with mustard, caraway and apples. Go ahead, dive in!
--
We hope this article made your mouth water and that the next time you see some delicious-looking sausages in your supermarket you get that craving only a scrumptious sausage can cure.
To see our entire sausage selection plus tonnes of recipe ideas on how to use them, it's this way.
Enjoy!
---