9 recipes that'll put seasonal fruits and vegetables on your plate
22 June, 2018
Classed under: Practical guide
---
Local Quebec fruits and vegetables are a lot like summer weather: it's not around for long but when it is, you have to get your fill!
To make sure local vegetables find their way to your plate, here are some scrumptious recipes that bring out their best, all made with gorgeous Canadian produce, the way you like it.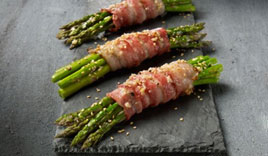 Asparagus
As soon as spring arrives, asparagus are back on our plates! From May to July local producers are shipping asparagus. Which means asparagus springs out of the earth at precisely the instant we roll our BBQs out of the shed. Happy coincidence? We think not!
You can try them…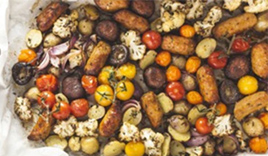 Cauliflower
Broccoli's pale cousin, cauliflower arrives just in time for the picnic season. It soaks up the sun and tries to get some colour (without success) from July to October.
You can help cauliflower get that healthy summer glow: add some to this delicious roasted sausage and veggie dish made with white wine and fresh herbs, created in collaboration with Dinette magazine.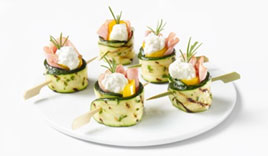 Zucchini
Whether you call it zucchini or the more exotic courgette, these summer squash are in their prime from July to October. Don't be fooled by their passing resemblance to the cucumber, they simply do not work as well in a gin and tonic after a hot summer's day.
You'll just have to make do with these unique recipes: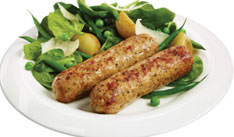 Peas
Just so we're clear, this is not about a trending print motif on summer dresses but a vegetable you actually eat!
Whether the green or the snap variety, peas are in season from June through August. Take advantage of all that gorgeous green on your plate now, because before you know it it'll be wintertime.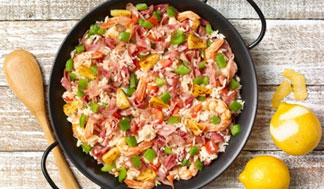 Tomatoes
While the greenhouse variety can be had all year long, local Quebec field tomatoes start ripening from July through October. Juicy and totally delicious, they make imported tomatoes green with envy.
Here are a couple of recipes you can't go wrong with:
One thing's for sure, supporting our local growers has never tasted so good. We'll also remind you that Olymel sausages and cold cuts are delicious whatever the season. Bon appétit!
Source: Équiterre, Info sheet – Seasonal products.
---