---
A handy guide to beer and sausage pairings
This fall, Germany is coming to town! During Oktoberfest, which as you may have guessed is German for October Festival, it's time to party it up and try a whole range of delicious, traditional Central European foods.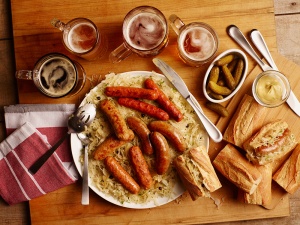 Germany's Oktoberfest draws millions of visitors from around the world who sample different kinds of beer, enjoy live music and tuck into hearty German fare.

Why not take the opportunity to hold your own Oktoberfest celebrations at home? Olymel has put together some classic food pairings that are simply wunderbar, namely sausage, beer and mustard! Try an Olymel Amoré Spicy Italian sausage with a white, bitter Pils beer for a feisty flavour experience. It gets even better with a dab of creamy Dijon mustard.

For more inspired sausage and beer pairings, visit the Oktoberfest section on the Olymel website.

To celebrate Germany's rich food tradition, here are a few authentic dishes that Oktoberfest just wouldn't be the same without!
Sauerkraut: This tangy, naturally sour cabbage is a classic German side dish that's great with sausages and piled on hot dogs, too!
Pretzels: Big soft chewy German-style pretzels are enjoyed like bread with all sorts of German specialties… or simply on their own!
Reiberdatschi: Grated potato, a hint of onion and a crispy golden crust will make these potato pancakes a huge hit with your guests!
Here's to Germany and your very own authentic haus party: PROST!

---