Football Night: recipes of champions for watching the big game with friends
20 January, 2017
Classed under: Hosting
---
7 easy recipes that are sure to score big!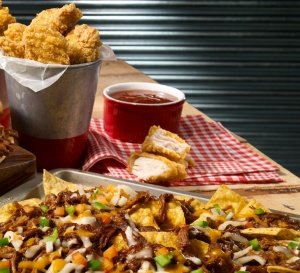 The climax of the American football season is fast approaching. Whichever teams make the final, the hoopla surrounding the game is like nothing else on earth!
Everyone looks forward to heroic performances on the field, superbly funny TV commercials and a huge half-time show… truly an experience worth waiting all year for.
It's also the kind of event that's great to watch in a gang. There's no better excuse for having friends over to eat in a relaxed, casual atmosphere.
At Olymel we had exactly this kind of occasion in mind when we created these super easy-to-make recipes for main dishes and appetizers…. the kind that are long gone by half-time!
Try 'em all!
Bacon with bloody Caesar seasoning
An absolutely unique way to flavour bacon.
Bacon and cream cheese bites
The simplest thing in the world to make, these scrumptious mouthfuls are perfect for entertaining.
Mini meat loaf cupcakes
Sprinkled with bacon bits, these teeny meat loaves will be a massive hit with big and little foodies alike. Simply irresistible!
Dates and bacon bites
Dates and bacon bites are all about sweet meets salty. They say opposites attract!
Amoré meat lovers' pizza
After years of exhaustive research, we made the breakthrough discovery that pizza topped with salami, pepperoni and Italian sausage is a big favourite with the meat lovers of the world!
Turkey, avocado and bacon tacos
---