---
It's that time of the year again when we renew our love affair with our sofas: between the new fall TV line-up, season 18 of our favourite show, or the return of hockey, you'll soon be growing closer than ever to that other love of your life, your sofa.
The perfect accompaniment to your favourite jogging pants, these awesome dishes were tailor-made for noshing on the couch. Here are 5 finger foods you can eat while never taking your eyes off the screen for an instant.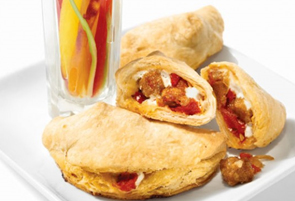 Italian sausage bites with Boursin cheese
What's the perfect companion food to Italian sausage? You guessed it, Boursin cheese.
We suggest a happy marriage of these two delicious ingredients, in a union more faithful than any two reality show contestants could ever dream of. The mild Italian sausage and cheese wrapped in flakey pastry will have you succumbing to its spell like nothing else.
And they're practical to eat, too, so you don't have to worry about getting crumbs between the sofa cushions.
---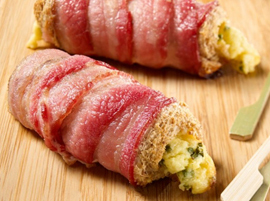 When you find out that your favourite character has fallen on the wrong side of the force, or your favourite sports team has just gotten a good spanking, you need the kind of comforting that only bacon can offer.
Easy to prepare, we prescribe a smoked bacon roll made with bread and herb-flavoured cream cheese. To be enjoyed with total disregard for moderation while watching your favourite shows.
---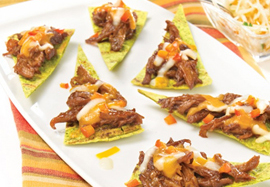 Chips are the crown jewels of living room snacks. To add a bit of spice to TV night, here's a Mexican version featuring pulled pork.
Inspired by nachos, these bites are easy to prepare using Olymel pulled pork. All you have to do is heat the garnished tortilla chips and enjoy (that is, if you didn't eat them all while making them).
---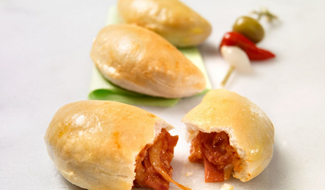 Pizzas you can devour in one bite? We love it!
Try this bite-sized version of one of your favourite foods: mini calzones. Not only can you make them ahead of time and freeze them, these bites can be garnished to taste with our delicious Amoré pepperoni, tasty veggies and different types of cheese.
We won't judge you if you come up with a Hawaiian version because, let's face it, the pizza-pineapple combo really did deserve an exciting new food of the year award in 1962.
---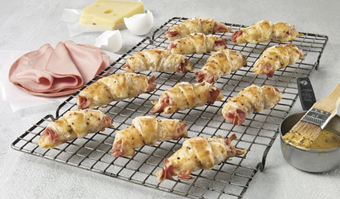 Flakey bologna and mustard mini croissants
Whether it's for your bouts of late night television or for those lazy mornings lounging in front of the tube, these delicious mini croissants with bologna will get your appetite going.
We're warning you. Watching the flakey pastry rise is entertaining in itself...enough to make your TV jealous.
The best thing of all is that most of these recipes can be made in less time than it takes to watch a commercial beak. So bring together the practical and flavourful by combining your sofa and your pantry!
Happy sofa surfing!
---