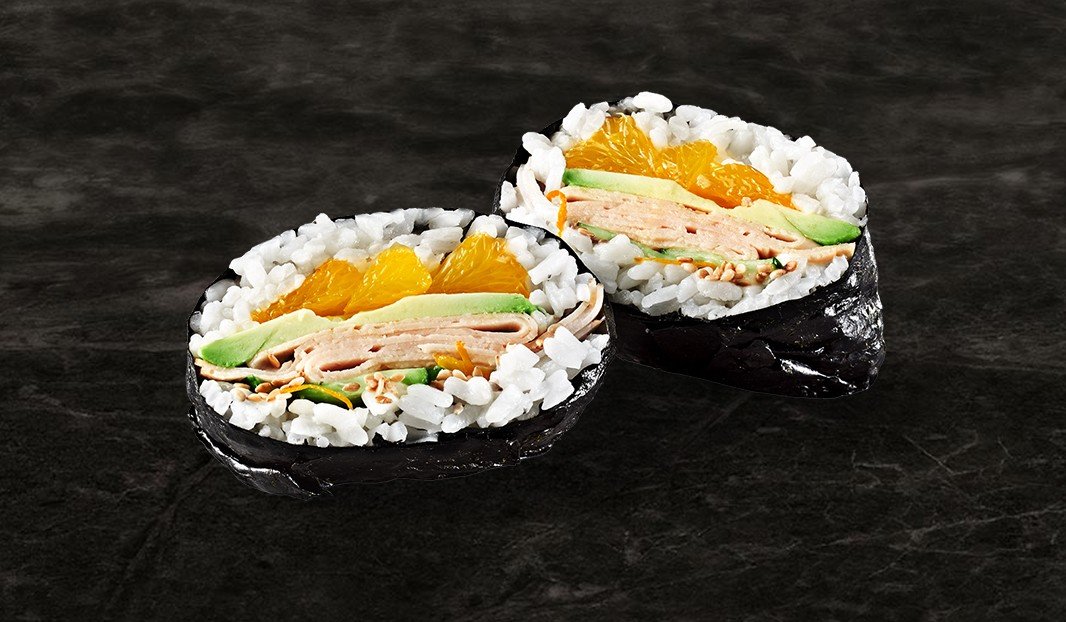 ---
---
preparation time
00:20 20min
---
---
---
ingredients
1 package Old Fashioned Smoked Turkey breast
¼ cup (60 ml) gluten-free mayonnaise
2 tbsp. (30 ml) orange juice
½ tsp. (2.5 ml) orange zest
2 drops toasted sesame oil
6 orange segments
2 cups (500 ml) short grain rice, cooked and cooled
2 leaves nori seaweed
1 avocado, sliced
1 Lebanese cucumber, sliced
Sesame seeds, toasted
instructions
In a bowl, mix the gluten-free mayonnaise, the juice and zest of orange and the drops of sesame oil and set aside.
Place 1 square of cling wrap on a work surface and place a sheet of nori on top.
Place ½ cup (125 ml) of rice in the centre of the nori sheet, shaping it into a patty using a moistened spatula.
Top the rice with half the Old Fashioned Smoked Turkey breast and avocado slices and half the cucumber slices plus 3 orange segments.
Place 1 spoon of orange mayonnaise on top and sprinkle with sesame seeds. Place ½ cup (125 ml) of rice on top of the other ingredients and press firmly to compact.
Lightly moisten the corners of the nori sheet and pull them up towards the centre using the plastic sheet, one at a time, pressing lightly so they adhere.
Wrap the onigirazu in plastic wrap twisting tightly and let rest 5 minutes.
Repeat the process with the remaining ingredients, cut each onigirazu in 2 and serve immediately.
As with sushi, the onigirazu may be prepared ahead of time. Excellent as a healthy and gluten-free addition to any lunchbox.
---