Turkey Croutons with Maple Roasted Vegetables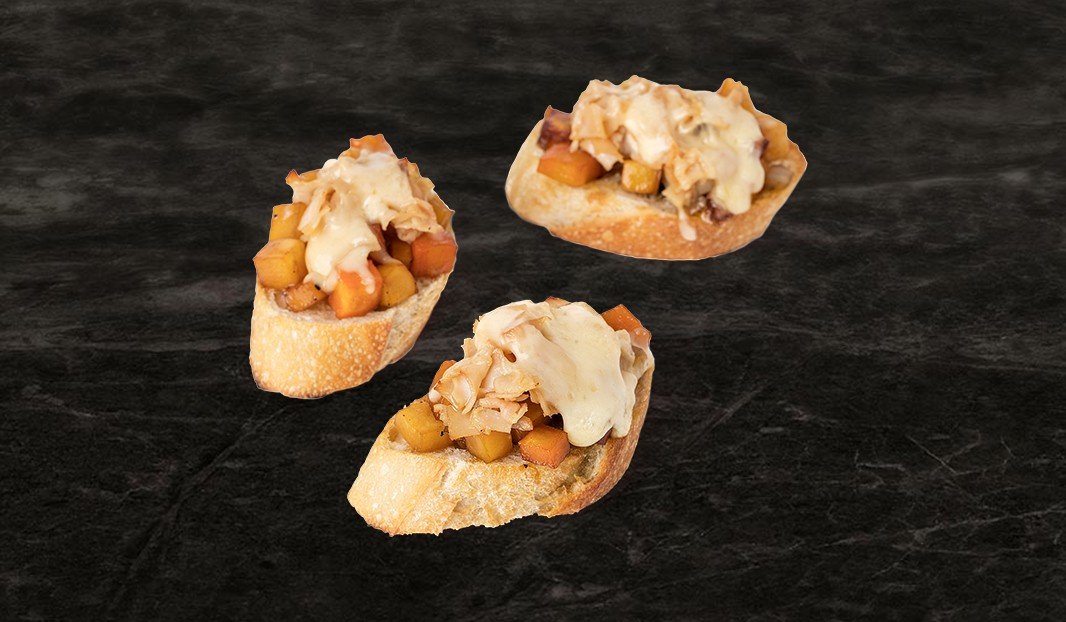 ---
---
preparation time
00:30 30min
---
---
---
ingredients
250 g smoked turkey breast, diced
1 clove garlic, pressed
¼ cup (60 ml) maple syrup
¼ cup (60 ml) olive oil
3 cups (750 ml) root vegetables, diced (carrots, turnip, celery-rave, rutabaga, Jerusalem artichokes)
1 white onion, cubed
1 cup (250 ml) Gouda cheese, grated
1 Parisian bread, sliced
Salt and pepper
instructions
Preheat oven to 450°F.
Place garlic, maple syrup and olive oil in a large mixing bowl and mix well.
Add the root vegetables and onions and salt and pepper and mix well.
Transfer mixture to a large baking sheet lined with parchment paper taking care to place the cubes in single layer.
Bake 30 minutes stirring halfway through cooking.Vegetables should be cooked through and golden brown.
Remove from oven, add the turkey cubes and mix well. Set aside.
Reduce heat to 350°F.
Place croutons on a baking sheet and bake 5 minutes.
Remove and arrange the vegetable turkey mixture over top of croutons and sprinkle over grated cheese.
Bake until cheese is bubbly.
Serve hot.
---