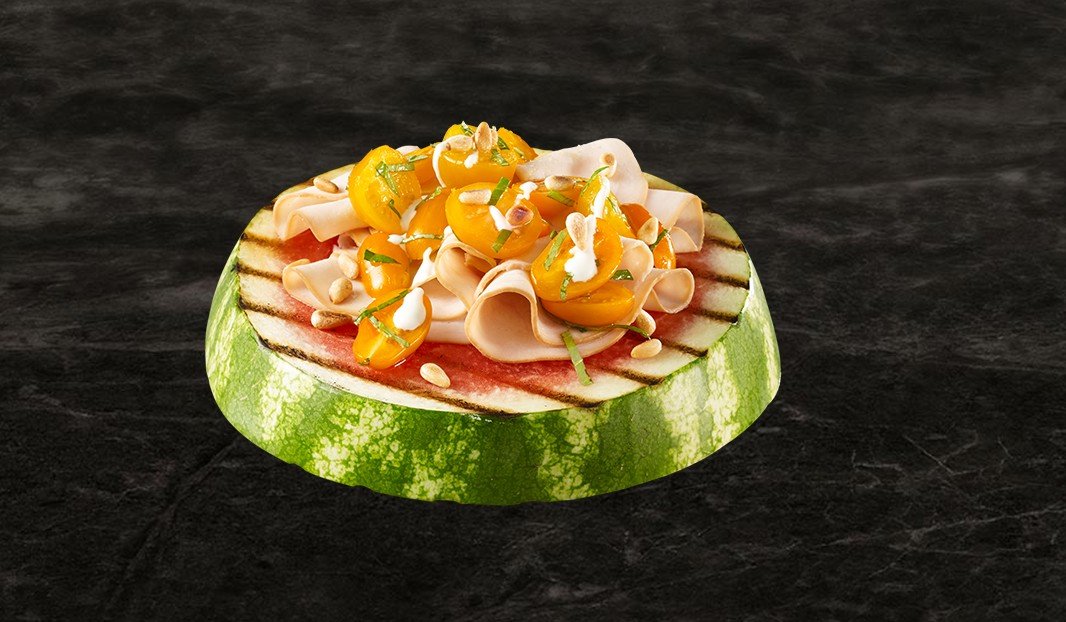 ---
---
preparation time
00:20 20min
---
---
---
ingredients
1 package (150 g) smoked chicken breast, shaved
1 pint yellow cherry tomatoes, halved
1 ½ tbsp. (22.5 ml) white balsamic vinegar
2 tbsp. (30 ml) olive oil (preferably fruity)
1 small bunch lemon basil, chopped
2 tbsp. (30 ml) liquid honey
1 tbsp. (15 ml) lemon juice
1 tbsp. (15 ml) water
4 slices seedless watermelon (about 1 ¼ in./3 cm thick)
½ cup (125 ml) crème fraîche
2 tbsp. (30 ml) toasted pine nuts
instructions
Preheat barbecue on high.
Place tomato halves in a bowl, add balsamic vinegar, olive oil, salt and pepper and basil and mix well. Set aside.
Pour the honey, lemon juice and water into a bowl and whisk to form a vinaigrette.
Brush the melon slices on both sides with the honey lemon mixture and grill 3 minutes per side basting regularly.
Place the melon slices on 4 plates and garnish with the chicken and the tomato mixture, drizzle over crème fraîche, sprinkle with pine nuts and serve immediately.
---