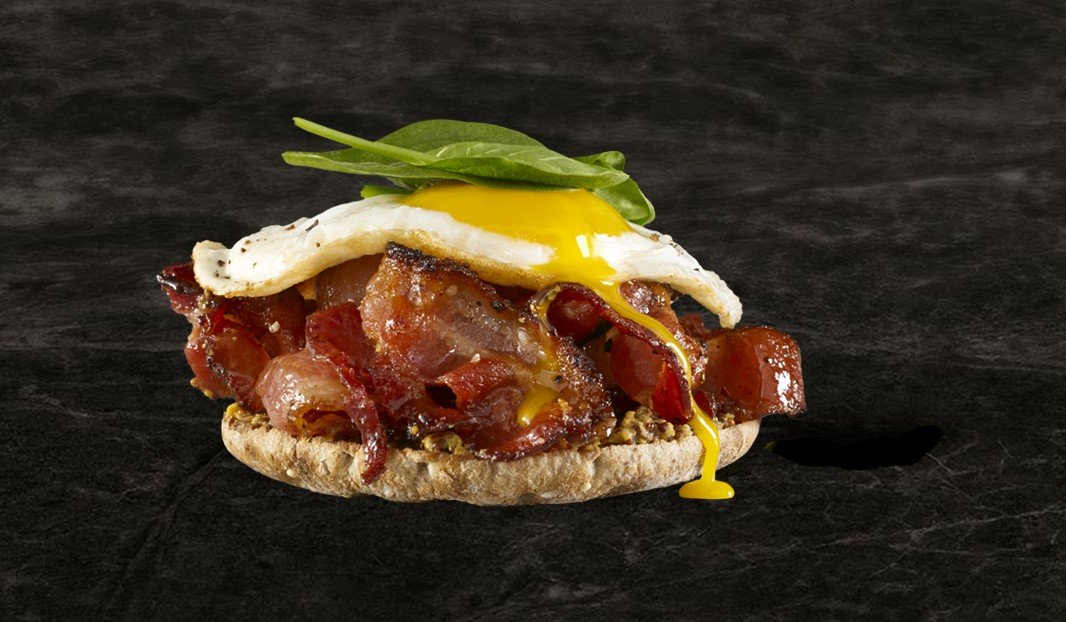 ---
---
preparation time
00:20 20min
---
---
---
ingredients
1 package (454 g) bacon
3 tbsp. (45 ml) maple syrup
1 tbsp. (15 ml) Montreal steak spice
2 eggs
1 tbsp. (15 ml) grainy mustard
1 round loaf of bread, cut in 2 and lightly toasted
2 small handfuls baby spinach
Salt and pepper
instructions
Preheat oven to 500°F.
Separate the bacon slices.
Heat a large cast iron pan over medium-high heat and add half the bacon slices without arranging them too -neatly.
Fry until bottom of bacon slices start to brown.
Turn over slices and cook another minute.
Stir the slices with a fork, then braid them together loosely and continue cooking until they are almost cooked.
Remove from heat, pour off half the fat, add the maple syrup, sprinkle over the spices and stir with a fork so as to coat each slice well with the syrup spice mixture.
Separate the bacon into two loosely braided mounds, place pan in oven and continue cooking until the bacon is glazed.
Remove from heat and keep warm.
Spoon a bit of the bacon fat into a non-stick pan over medium heat and break two eggs side by side into it.
Add salt and pepper and cook eggs sunny side up keeping yolks intact.
Place round breads halves on 2 serving plates, spread with mustard, then place a mound of bacon on each slice.
Place eggs flat on top of bacon, garnish with baby spinach and serve immediately.
---