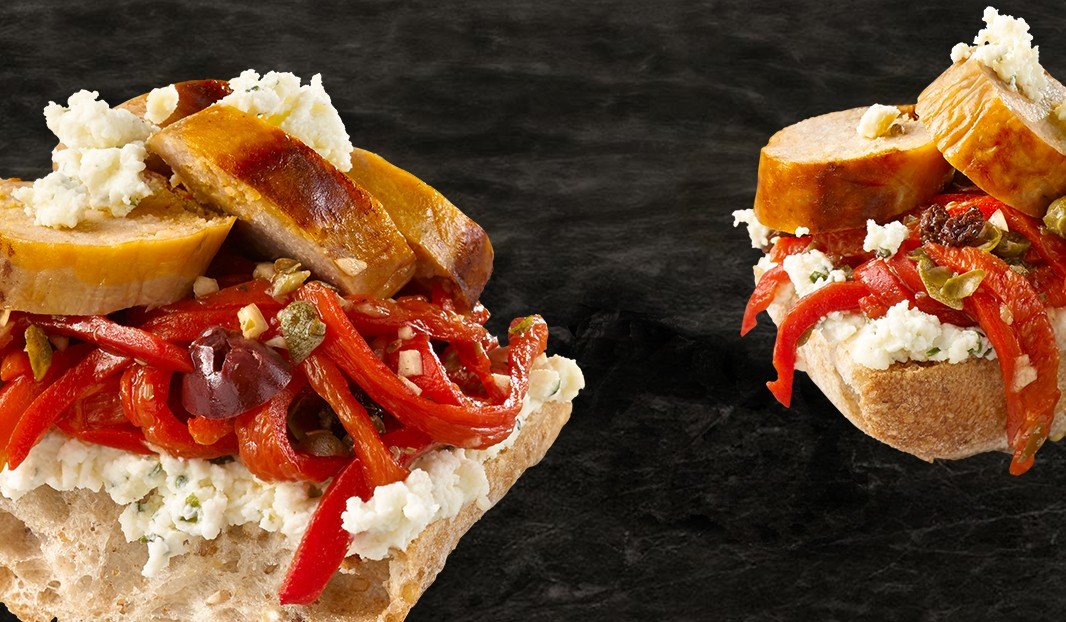 ---
---
preparation time
00:30 30min
---
---
---
ingredients
2 Sausages Mild Italian, cooked (mild or spicy)
1 package garlic and herb Boursin
2 large roasted peppers (homemade or store bought)
1 small clove garlic, pressed
6-8 black olives, sliced
1 tbsp. (15 ml) chopped capers
1 ½ tbsp. (22.5 ml) Xeres vinegar
2 tbsp. (30 ml) olive oil
2 tbsp. (30 ml) Corinth grapes
1 pinch dried oregano
1 multi-grain ciabatta baguette, cut in 2 along the side
Salt and pepper
instructions
Cut the sausages into slices. Set aside.
Cut the peppers into fine slices and place in a salad bowl.
Add the garlic, olives, capers, vinegar, oil and Corinth grapes, sprinkle with oregano and salt and pepper and mix well. Let stand 30 minutes then mix again.
Separate the baguettes halves and place on a baking sheet.
Turn oven on broil and toast about 5 minutes or until golden brown, remove and let cool completely.
Spread each baguette half with the garlic herb Boursin and cut into 6 to 7 segments.
Garnish each mini-toast with pepper salad, then with sausage slices and serve immediately.
---