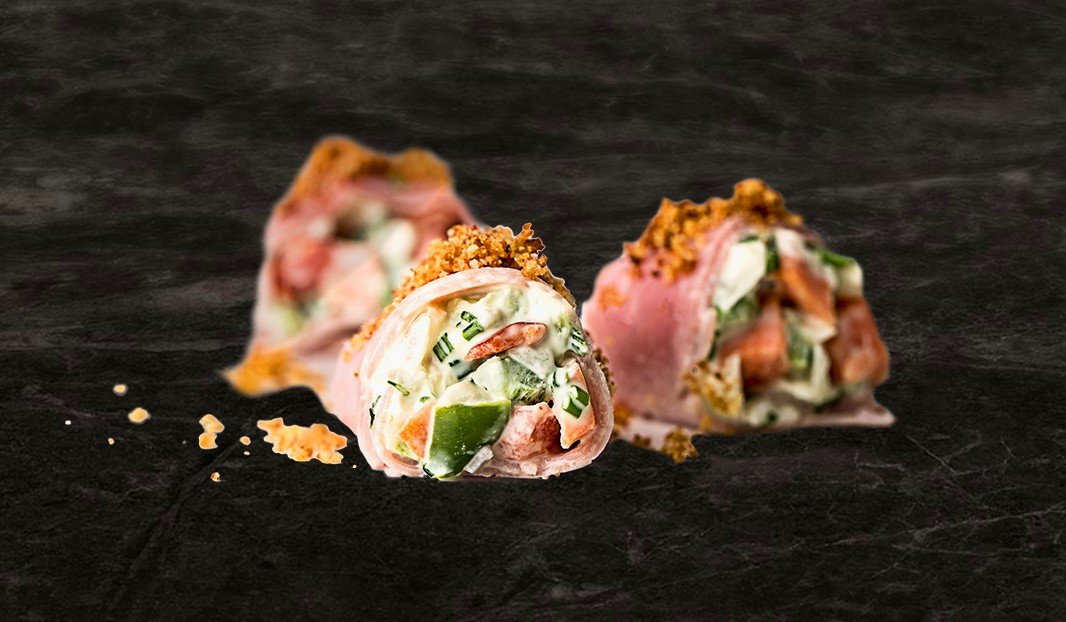 ---
---
preparation time
00:20 20min
---
---
---
ingredients
8 slices traditionnal cooked ham
2 ½ cups (625 ml) frozen mixed vegetables
1 cup (250 ml) bread crumbs
3 tbsp. (45 ml) lemon herb butter
½ cup (250 ml) mayonnaise
1 tbsp. (15 ml) Dijon mustard
2 tbsp. (30 ml) chopped chives
1 tbsp. (15 ml) lemon juice
1 tbsp. (15 ml) lemon zest
Salt and pepper
instructions
Place the frozen mixed vegetables in a colander and thaw completely before starting the recipe.
Place the thawed vegetables on a clean dish towel, fold over the extra cloth on top and drain well.
In a pan over medium heat, brown the bread crumbs in the lemon herb butter for 5 minutes stirring constantly. Place crumbs on absorbent paper towels and set aside.
Place the vegetables in a salad bowl with the mayonnaise, mustard, chives, the zest and juice of lemon, add salt and pepper and mix well.
Divide the mixture into 8 equal parts.
Place 4 slices of ham on a work surface and top with 4 portions of the vegetable mixture. Roll up ham slices and place on a serving platter.
Repeat with the remaining ingredients.
Sprinkle the ham rolls with the toasted breadcrumbs and serve immediately.
---