Ham, Eggplant and Harissa Sandwich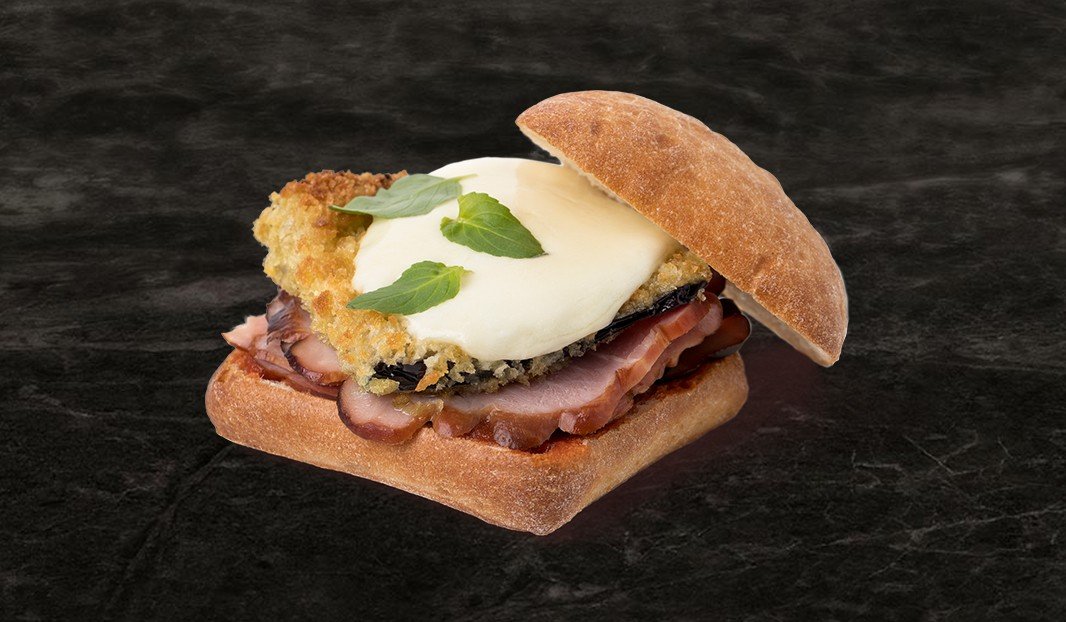 ---
---
preparation time
00:30 30min
---
---
---
ingredients
300 g double-smoked Black Forest Ham, thinly sliced
1 large eggplant
½ cup (125 ml) all-purpose flour
2 eggs, beaten
1 cup (250 ml) panko breadcrumbs
½ mozzarella ball
4 tsp.(40 ml) harissa (or to taste)
4 square ciabatta breads, lightly toasted
8 basil leaves, cut into fine strips
Vegetable oil, for cooking
Salt and pepper
instructions
Remove ends from the eggplant and cut 4 slices about 1.5 cm (5/8 in.) thick from the widest section. Reserve remaining eggplant for another use.
Place flour, eggs and breadcrumbs in 3 different bowls. Add salt and pepper to flour and mix well.
In a high-sided pot, pour in enough oil to cover bottom by 1 cm (3/8 in.) and place over medium high heat.
Roll eggplant slices in the flour, then the egg, then in the breadcrumbs pressing firmly so they adhere.
When oil is hot, place eggplant slices side by side in the oil and cook 3 minutes or until golden brown.
Cut mozzarella into 4 slices.
Lower heat to medium, turn over eggplant slices and top with the mozzarella, cover and cook an additional 2 minutes.The cheese should be melted and the eggplant nicely browned underneath. Remove and drain on a double thickness of paper towels.
Spread the ciabatta breads with harissa sauce, top with double-smoked Black Forest ham slices and place a hot eggplant slice on top.
Garnish with basil, close the sandwiches and serve immediately.
---