Ham and Bruschetta Crostini with Black Garlic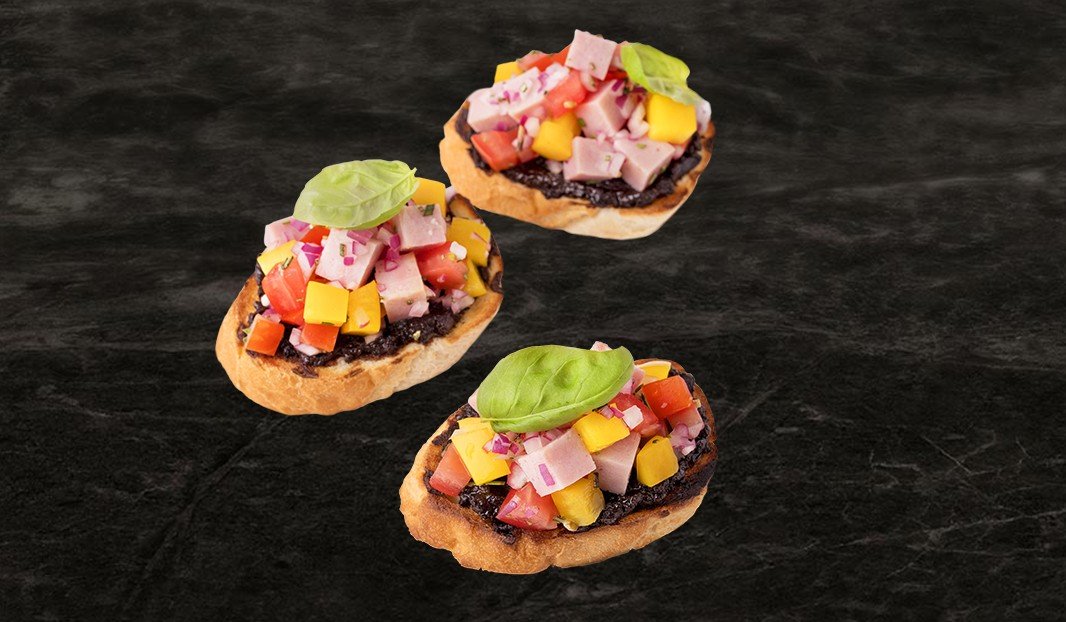 ---
---
preparation time
00:20 20min
---
---
---
ingredients
200 g Black Forest ham, diced
2 large red tomatoes, diced
1 yellow pepper, diced
2 tbsp. (30 ml) red onion, chopped fine
1 sprig rosemary, leaves only, chopped
2 tbsp. (30 ml) maple vinegar
1 French bread, cut into 12 slices
2-3 cloves black garlic
Basil leaves, to taste
Olive oil
Salt and pepper
instructions
Place the ham, tomato and pepper dice into a bowl, add onion and rosemary, then pour in the vinegar and 3 spoons of olive oil. Mix well and let marinate for 15 minutes.
Place bread slices on a baking sheet and brush with olive oil on both sides.
Heat barbecue on high and toast the croutons until lightly browned on both sides.
Place the flesh of the black garlic in a small bowl, add 1 tsp. (5 ml) olive oil and work it to obtain a smooth paste. Spread each crouton with a thin layer.
Drain the ham bruschetta and divide between the croutons.
Garnish with basil leaves and serve immediately.
---