French Toast, Turkey Bacon and Cranberry Sandwich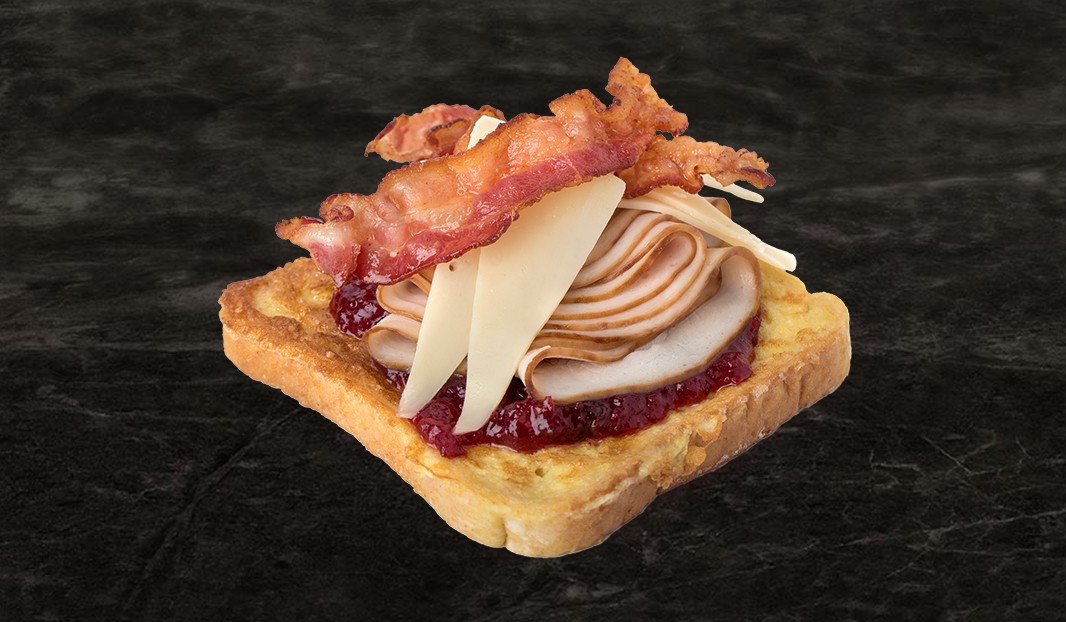 ---
---
preparation time
00:15 15min
---
---
---
ingredients
300 g black forest smoked turkey breast
8 slices bacon, cooked
4 eggs
½ cup (125 ml) milk
½ cup (125 ml) 35% cream
3 tbsp. (45 ml) brown sugar
½ tsp. (2.5 ml) vanilla extract
8 slices white bread
½ cup (125 ml) cranberry preserves
6-8 slices fontina cheese
Butter, for cooking
Salt
instructions
Break the eggs into a small mixing bowl, pour in the milk, cream and vanilla, salt lightly and whisk together.
Pour mixture into a pie plate or a flat-bottomed bowl and set aside.
Preheat oven to 200°F (95°C) and place a small baking sheet on the middle rack.
Heat a large non-stick pan over medium heat and melt 2 spoons of butter.
When butter is almost melted, dip 1 slice of bread into the egg mixture, turning to soak completely, without over softening. Place the dipped bread into the sizzling butter and repeat with 1 or 2 more slices.
When bread is golden brown on one side, turn with a flexible spatula and cook another minute. Remove from pan and place in oven.
Repeat with the remaining bread slices placing them in the oven to keep warm as you go.
Spread 4 of the French toast slices generously with cranberry preserves, top with black forest smoked turkey slices, cheese and bacon, close the sandwiches, cut in 2 and serve immediately.
---