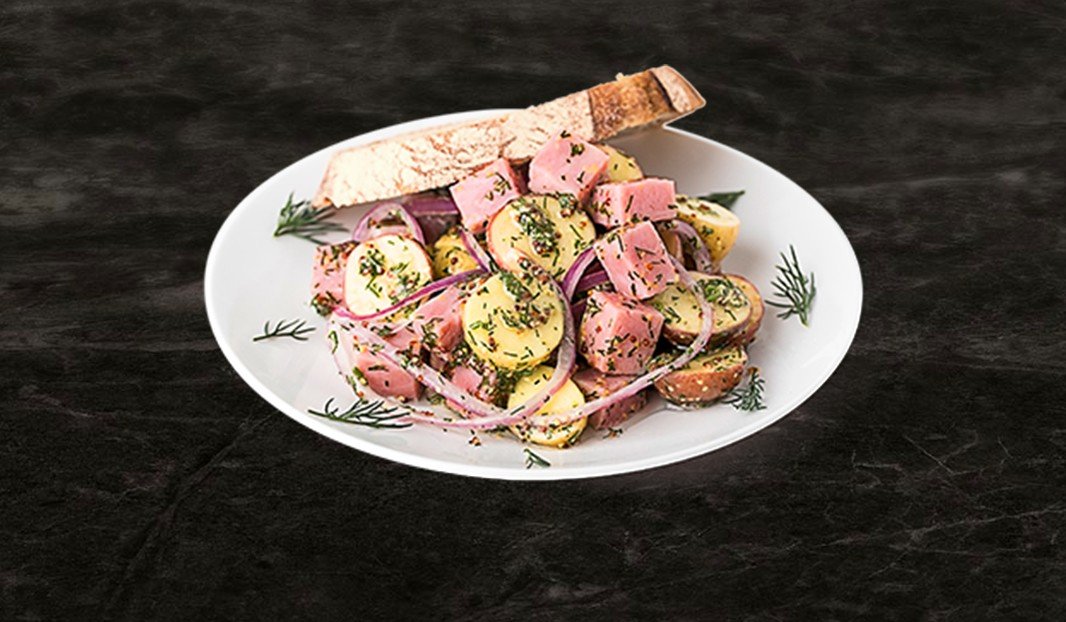 ---
---
preparation time
00:20 20min
---
---
---
ingredients
1 piece waxed bologna (about 300 g)
1 lb (454 g) tiny new potatoes
1 small red onion, thinly sliced
½ lemon, for zest and juice
1 ½ tbsp. (22.5 ml) grainy mustard
10 French gherkins, cut into rounds
¼ cup (60 ml) chopped dill
4 slices country-style bread
1 clove garlic, cut in 2
Dijonnaise dressing, to taste
Olive oil
Salt and pepper
instructions
Preheat oven to 350°F (180°C).
Boil the potatoes in salted water until a fork inserted meets only slight resistance. Remove from heat, drain, cover and let rest 10 minutes.
Place the onion, lemon zest and lemon juice in a salad bowl, add the mustard, pickles and a ¼ cup of olive oil. Whisk to make a vinaigrette.
Cut the still-warm potatoes in 2 or 4 and place in the salad bowl, toss well, then add the dill, salt and pepper and toss again.
Drizzle the bread slices with some olive oil, place on a baking sheet and bake until just coloured.
Rub the bread slices with the garlic halves, cut them into 3 and set aside.
Bring a small pot of water to a boil.
Cut the bologna into 3 thick slices and then into chunky cubes.
Plunge bologna cubes into the boiling water just long enough to warm them up.
Divide the warm potato salad into 4 plates and top with the bologna cubes and garlic bread and serve accompanied by ramekins of Dijonnaise dressing.
---