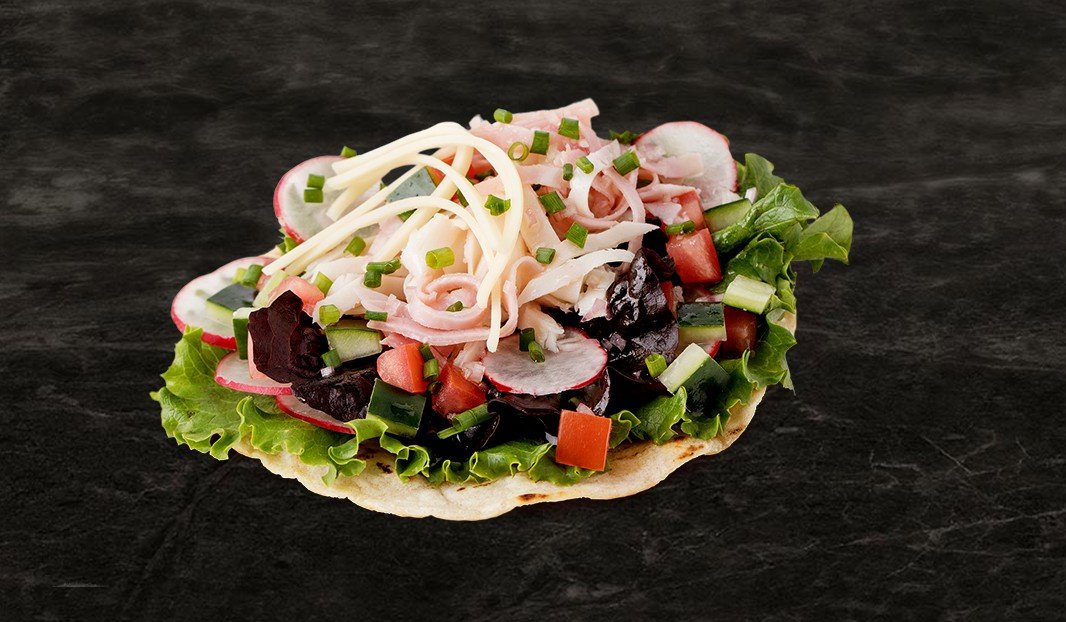 ---
---
preparation time
00:30 30min
---
---
---
ingredients
4 slices old-fashioned smoked ham
4 slices smoked chicken breast
½ cup (125 ml) olive oil
¼ cup (60 ml) white wine vinegar
2 tbsp. (30 ml) lemon juice
1 tbsp. (15 ml) maple syrup
1 small French shallot, chopped fine
1 small green curly lettuce
1 small red curly lettuce
1 cucumber, diced
1 red tomato, diced
4-5 radishes, sliced
4 slices Swiss cheese
4 tostadas
Chopped chives, for garnish
Salt and pepper
instructions
Pour the oil, vinegar, lemon juice and maple syrup in a Mason-style jar, add the shallot and salt and pepper, cover and shake well. Let stand while you prepare the other ingredients.
Tear the lettuce into pieces and place in a large salad bowl.
Add the tomato and cucumber cubes and the radish slices and mix well.
Cut the ham, chicken and cheese into strips and set aside.
Shake the Mason jar again and pour half the vinaigrette over the salad and mix well.
Place the tostadas on 4 serving plates and divide the salad among them.
Top with the ham, chicken and cheese slices and sprinkle over with chives.
Serve immediately with the remaining vinaigrette on the side.
---