Black Forest Ham Stuffed Buckwheat Crêpes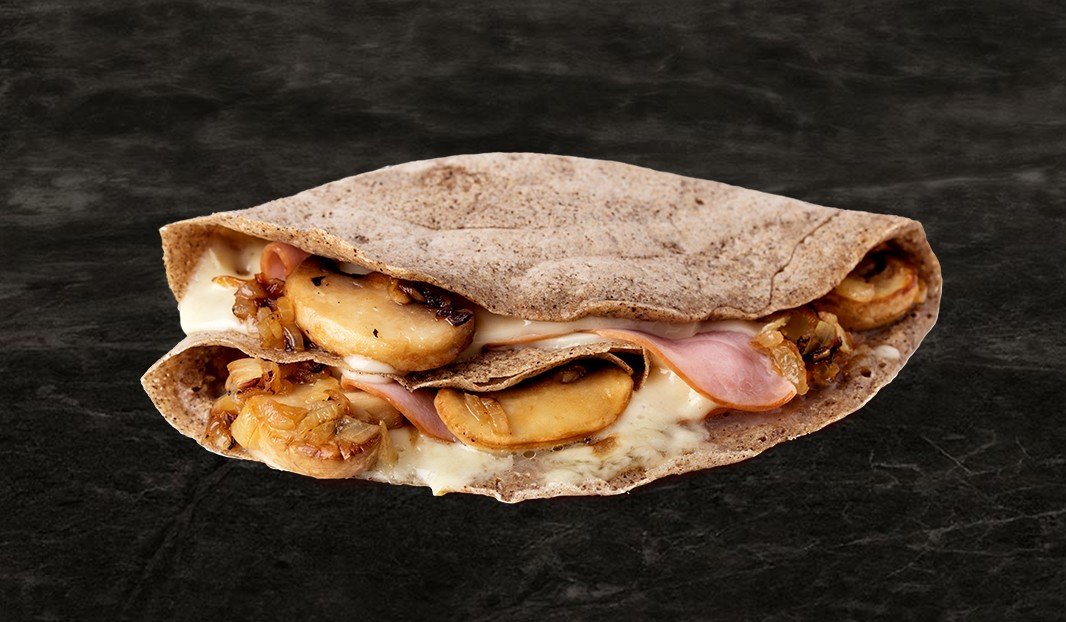 ---
---
preparation time
00:30 30min
---
---
---
ingredients
1 package (150 g) Smart & Natural Black Forest ham
1 cup (250 ml) buckwheat flour
Water
½ tsp. (2.5 ml) baking powder
1 large yellow onion, coarsely chopped
1 package brown mushrooms, sliced
1 tbsp. (15 ml) balsamic vinegar
150 g Swiss cheese, sliced
Salted butter, for cooking
Pepper
instructions
Place the flour in a deep mixing bowl, form a well in the centre, pour in 1 cup of water and mix well using a wooden spoon and adding water as you go each time the batter gets too thick.
The batter must be smooth and liquid (the consistency of 35% cream).
Heat a cast iron pan over medium-high heat and melt a small lump of butter.
Pour ½ cup (125 ml) of batter into the pan and cook until bubbles form on the surface.
Turn the crêpe and continue cooking until nicely browned and then remove to a plate. Repeat process until all batter is used up.
In the same pan, melt 2 spoons of butter and cook the onions and mushrooms for 10 minutes, add pepper, pour in the balsamic vinegar, mix well and remove from heat.
Preheat oven to 350°F (180°C) and place a bowl of very hot water on the bottom rack.
Place the crêpes on a work surface and top with, in turn, the cheese, slices of Smart & Natural Black Forest ham and the onion-mushroom mixture.
Fold the 4 sides up towards the centre and place the stuffed crêpes on a baking sheet.
Bake 8 to 10 minutes, or until the crêpes are very hot.
Serve immediately.
---