---
Try our chef's favourite recipes, ready in under 30 minutes, giving you time to relax with your family or enjoy an evening with friends.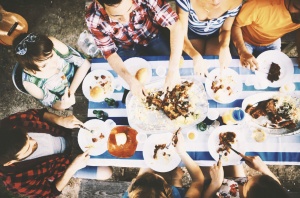 This recipe for spicy Italian sausages with mediterranean asparagus salad is bound to be a hit at your next barbecue. Add in some healthy vegetables, and presto! A satisfying meal in a jiffy.
The meat lovers in your gang, whether they're big or small, will find pure pleasure in our pulled pork and caramelized oinon naan pizzas! It's also an excellent way to get them to eat their veggies with a smile.
Surprise your guests with a dish that's both gorgeous and delectable! Our Couscous with smoked sausages will impress your guests to the point where you won't want to say how easy it is to prepare.
For a warm sandwich to satisfy a hungry crowd, our Banh mi baguette with cooked turkey breast is ready in 10 minutes. Here's a superb choice for lunch on the weekend or supper on a quiet weeknight.
Long live brunch with our Ham, asparagus and Emmental cheese crepes topped with a delightful béchamel sauce. To make life easier, look for French-style crepes at your grocery store. It's allowed!
---