---
Your chef's apron, your cooking tongs, your grill and your Olymel products: that's all you need for an exceptionally successful meal! Barbecuing is obviously one of summer's simplest pleasures. We have a few original recipe ideas that could help you keep your title of King of the Grill!
• A classic reinvented, Olymel European sausages spicy Italian parcels with grilled vegetables and herbs!
• To impress the guests, go for skewers of grilled Italian sausage and peppers!
• pizza lovers? You will be served with the thin crust pizzas with Italienne sausage and Bousin.
• A classic reinvented, the Quesadilla with mild toulouse sausage and boursin!
• To impress guests, opt for potatoes stuffed with mild Italian sausage & European Boursin Cuisine, shallots & chives!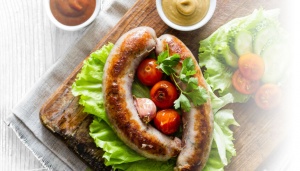 For perfectly grilled meat, nothing beats a few tips and tricks of the trade that will help you master the art of barbecue!
Before placing your meat on the grill, make sure that the grid is clean and very hot. Also, place your meat cuts on a diagonal with the grid lines to make your marks like a pro!
Prevent the flames from touching the meat. To do this, remove all visible fat from your meat and move it to another spot on the grid when flames flare up.
To prevent meat from sticking to the grid, wait for the grid to be hot and brush a bit of oil on it!
If you cook sausage, pre-boil them for five minutes to reduce cooking time and pierce them to let the fat escape.
And now, all that's left for you to do is to make yourself comfortable on your terrace, enjoy a great meal and relish these delicious moments spent with friends and family. Bon appétit!
---