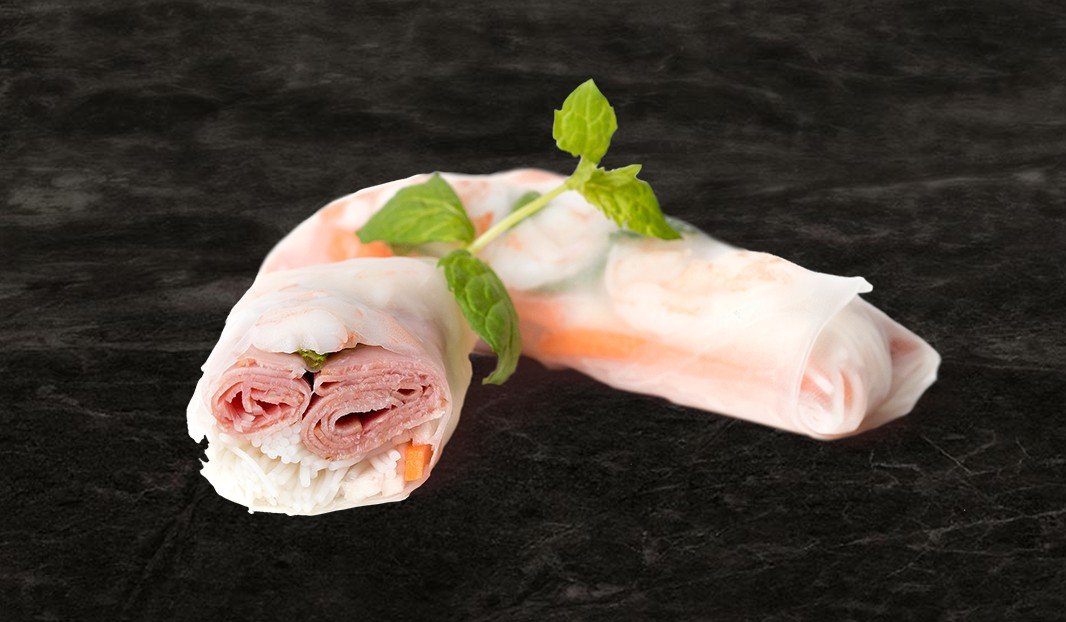 ---
---
preparation time
00:30 30min
---
---
---
ingredients
2 packages (175 g each) old fashioned smoked ham
¼ cup (60 ml) hoisin sauce
¼ cup (60 ml) peanut butter
¼ cup (60 ml) vegetable milk (coconut, almond, soy)
1 ½ tsp. (7.5 ml) ground ginger
9 shrimps, cooked (size 21-25)
2 carrots, julienned
1 petit daikon, julienned
2 cups (500 ml) rice vermicelli, cooked
5-6 sprigs fresh mint
5-6 sprigs fresh cilantro
8-10 sheets rice paper
instructions
Place the hoisin sauce, peanut butter, vegetable milk and ginger in a bowl and mix well.
Cut shrimp in 2 lengthwise. Set aside.
Separate the old fashioned smoked ham into 8 equal parts.
Quickly dunk 1 sheet of rice paper into a bowl of lukewarm water, just long enough to soften, and place flat on a work surface.
Place 1 old fashioned smoked ham portion in the centre of the rice paper and form into a small sausage shape.
Place a bit of each of the toppings alongside the pork, except the shrimp.
Roll the rice paper up around the fillings 2/3 of the way, taking care to tuck in the sides.
Place 3 shrimp halves end to end on the roll and continue rolling, pressing lightly so it all holds together. The shrimp should show through the rice paper.
Keep the rolls under a damp dishcloth until all are rolled.
When ready to serve, divide the ginger peanut sauce into 4 ramekins and serve immediately.
---