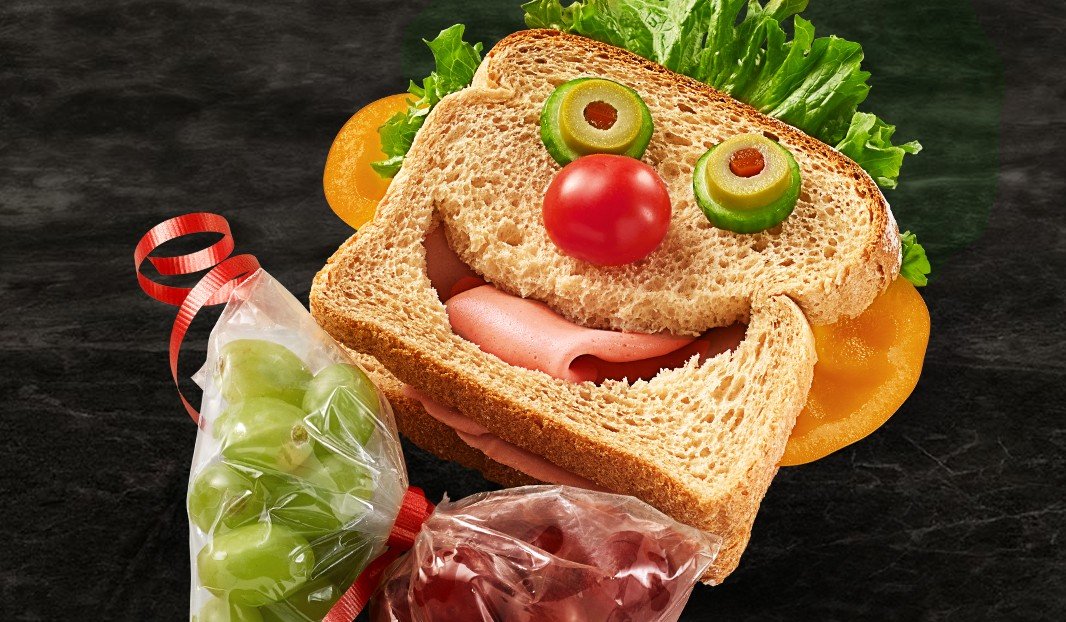 ---
---
preparation time
00:15 15min
---
---
---
ingredients
2 slices regular bologna
2 slices bread
Yellow mustard, to taste
1 leaf green curly lettuce
1 yellow pepper ring
2 cucumber slices
2 olives (green or black)
1 red cherry tomato
Red and green grapes
1 small resealable snack bag
1 colourful pipe cleaner or elastic band
instructions
Spread 1 slice of bread with mustard and place in a rectangular sealable plastic container.
Place the lettuce leaf on top so that its edges extend beyond the bread pointing up and place the bologna slices on top.
Cut the pepper ring and place half on each side to make the ears.
Using a paring knife or cookie cutter, cut the clown's mouth in the second slice of bread and close the sandwich.
Position the cucumber slices on top, then the olives on top of those to make the eyes and place the tomato in the centre of the face.
Fill one side of the snack bag with green grapes and the other with red, close the bag and clinch the centre with the pipe cleaner or elastic and roll the ends to make a funny bow-tie.
Place the bow-tie under the clown's chin and seal the container.
---