Asian Fried Bologna Burger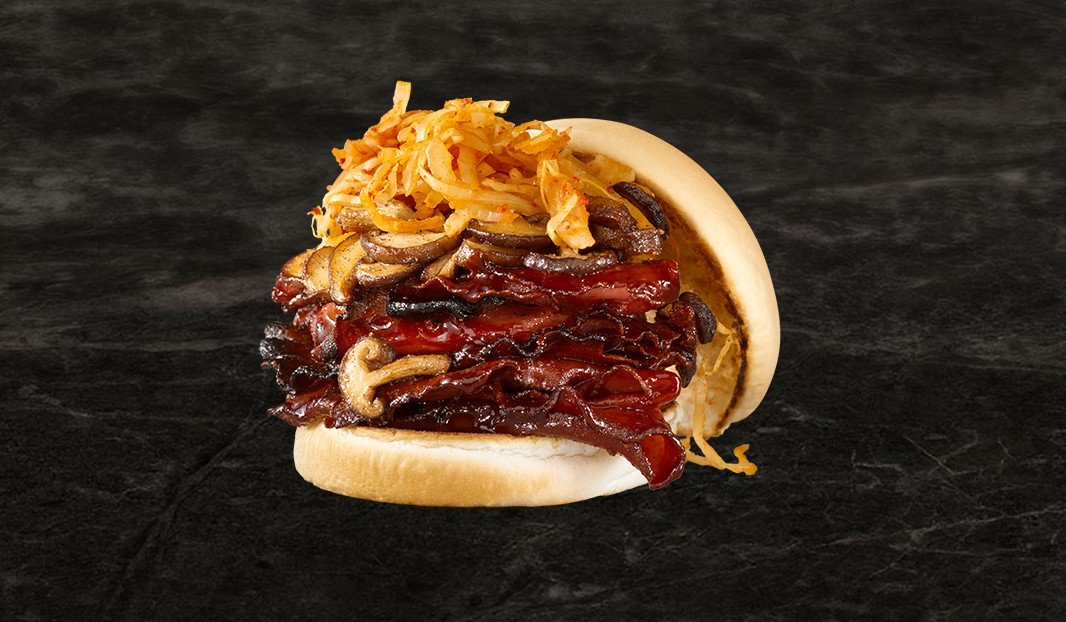 ---
---
preparation time
00:15 15min
---
---
---
ingredients
200 g bologna, sliced thin
1 package (114 g) shiitake mushrooms, sliced
½ tbsp. (7.5 ml) Chinese 5-spice powder
1/4 cup (60 ml) hoisin sauce
1 1/2 tbsp. (22.5 ml) sriracha sauce
2 hamburger rolls
1 cup (250 ml) kimchi
Oil, for cooking
Butter, for cooking
Salt
instructions
Heat a large cast iron frying pan and toast the inside of the bread/rolls without
using butter until bread is dark brown, almost black. Set aside.
In the same pan, melt 2 spoons of butter in a bit of oil over medium high heat and
cook the mushrooms 8 minutes.
Sprinkle with salt and the 5-spice mixture and continue cooking for 2 minutes
stirring constantly. Keep warm.
Place hoisin and sriracha sauces in a bowl and mix well.
In the same pan add oil as needed and fry a few bologna slices, turning
frequently, until edges are well browned. Remove from heat, brush generously
with the sauce mix and keep warm. Repeat with remaining bologna slices.
Build the burgers by stacking 4 or 5 bologna slices per base, then top with the
fried shiitake mushrooms and a healthy amount of kimchi.
Serve very hot with the remaining sauce on the side.
---