A majestic sandwich loaf with extra meat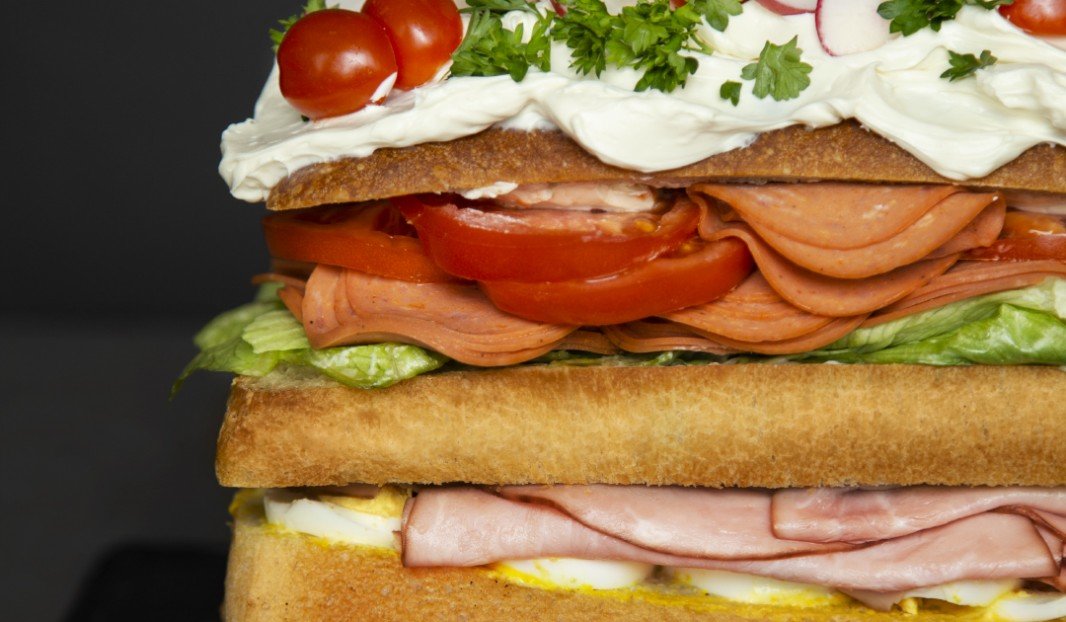 ---
---
preparation time
00:20 20min
---
---
---
---
This is classic Quebec comfort food that makes an appearance every holiday season. It's what mayonnaise is to sandwiches: indispensable. This majestic version is perfect for meat lovers.
ingredients
1 loaf of white bread (not sliced)*
4 Olymel Sausages Mild Italian (skin removed)
1 red pepper, cut into thin strips
4 green onions, finely chopped
3 eggs, hard-boiled and sliced
175 g of Olymel old fashioned smoked ham
1/3 cup of mayonnaise
2 tablespoons of yellow mustard
150 to 200 g of Olymel pepperoni
3 plum tomatoes, sliced
6 to 8 leaves of iceberg lettuce
250 g of cream cheese (at room temperature)
1/3 cup of 15% cooking cream
3 radishes, diced
1/2 cup of cherry tomatoes, cut in half
Chopped parsley (4 stalks worth)
Vegetable oil
Salt and pepper
We used a loaf of country-style white bread that you can buy unsliced in a bakery or supermarket. However, before the holidays, certain grocery stores sell white bread that is sliced horizontally. You can also use tramezzini, a crustless bread that is sliced horizontally and is available in several grocery stores.
instructions
If your loaf is not pre-sliced, cut it into 4 long horizontal slices.
Heat a little vegetable oil in a pan over medium-high heat. Cook the sausage meat for 5 to 8 minutes. Add the red pepper and green onion and cook for a further 5 minutes. Remove from the pan and allow to cool.
Spread mayonnaise on each slice of bread. Spread the sausage meat, red pepper and green onion mixture on one slice of bread.
Spread the mustard, egg and ham slices on one slice of bread.
Spread the lettuce leaves, pepperoni and tomato slices on the remaining slice of bread. Season each slice with salt and pepper. Assemble the sandwich loaf.
Mix the cream cheese and cooking cream until smooth.
Cover the sandwich loaf with the cream cheese mixture and garnish with radish slices, cherry tomato halves and parsley.
Cut into vertical slices.
---