---
If you're looking for a good excuse to get together with friends, consider throwing a party on a Saturday night or Sunday afternoon to watch the game on TV. Check out our tips for making your get-together a success:
Invitations
If it's a regular season game (hockey, football or other), you can simply call your friends the same day and organize the gathering on short notice. However, if it's a championship game, invitations should be sent out well in advance, either by regular mail or email.
Decorations
Decorate your place with the colours of everyone's favourite team and ask your guests to wear at least one article of clothing with this colour (e.g. purple for the Baltimore Ravens or blue for the Vancouver Canucks or red for the Montreal Canadiens ). You can find plenty of accessories for your home at dollar stores or specialty shops, such as Party Expert or online stores such as Party Connection.
Accessories
Is there room in your budget for pennants or other official merchandise? Several leagues have online boutiques, including the Canadian Football League and the National Hockey League.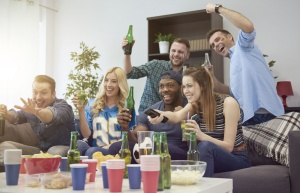 Let's talk food!
Of course, you'll need some good food for your guests. Regardless of your menu, stick to finger foods that everyone can reach.
From the pre-game show till halftime, set out some snacks and cold appetizers. For a nice twist to the standard buffet, how about a sandwich station? Place a platter of cold cuts on a coffee table along with a basket of sliced bread, some butter, mustard, mayonnaise, etc. Add some raw vegetables, a few pickles, a bowl of lettuce leaves, and some paper plates and napkins.
At halftime, the munchies get serious with Wieners and bacon bites with apple and maple bbq sauce appetizers, our ciabatta pizza with amoré pepperoni, caramelized onions and arugula salad, our mini-peppers stuffed with amoré pepperoni or our submarine sandwiches with steak and Amoré pepperoni. For hot appetizers, focus on recipes that can be prepared before the game and kept warm.
---