---
Olymel is offering you a few tips to enjoy the benefits and pleasure of family cooking.
We all want to spend quality time with our children but we sometimes lack inspiration when the time comes to choose an activity. Why not take advantage of a rainy or stormy afternoon to try family cooking?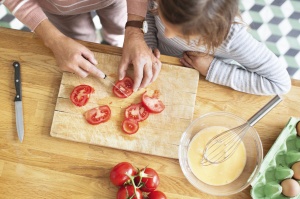 Olymel's Website is a treasure trove of recipes that are simple and ideal for cooking with kids! Try for instance our pepperoni pizza turnovers or mac and cheese in Olymel ham shells.
The most important thing to guarantee an activity that is fun for everyone is to make it as simple as possible and to choose the right moment.
Here are a few organizational tips:
Since this is an activity rather than a task, choose a time slot that leaves plenty of time for the kids to observe, touch and smell the food: weekends are the ideal time.
Simplicity is the key. Choose recipes that are easy and adapted to your children's age. For instance, sure values are mini pizzas, salads, sandwiches, muffins, and so on.
Let your kids experiment freely. Explain the steps of the recipe and the safety rules and show them how to execute each step, but give them enough time to explore and to assimilate what they just learned.
You will see that cooking with kids, even with toddlers, is a fun activity with multiple benefits that:
Helps to encourage healthy eating habits for the whole family
Contributes to the motor and cognitive development of young children, who learn to handle food, to follow a recipe, and so on
Helps to develop autonomy, self-confidence and self-esteem
Have a great time and... bon appétit!
---