---
Discover Olymel's tips to surf the heat wave
A Québec summer without dog-days is not a real summer! After waiting and hoping for months for the sun and heat to return, who is going to complain about sweating a bit more than usual? Actually, as long as you make sure to remain well hydrated (obviously) and not to stay in the sun for too long (duh!), you should survive heat waves.
Here are a few tips for those who would like to surf the heat wave a bit more easily, especially if they have no air conditioning in their house, or if the wish to use less air conditioning and save energy!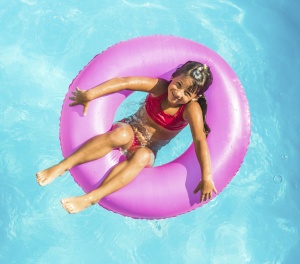 Eat light
No one wants to spend these dog-days bent over a hot stove! Favour foods that are light and quick to prepare: think salads, sandwiches, crudités and fresh fruit.
The Olymel Website is chockfull of ideas for simple, light and delicious meals and snacks for those days when you want to move into our freezer! Click here to discover our recipe suggestions.
On go: to your freezers!
Before going to bed, put your sheets or your pyjamas in a plastic bag and put them in the freezer for 20 minutes. Although short-lived, the cooling effect will be much welcome!
Before and after bed showers
Take a cold shower before going to bed and after getting up: before to cool down and after, to wake up.
Keep the heat out
Use window strategy! Close all sun-exposed windows and their curtains to prevent the heat from coming in. Since warm air rises, open your downstairs windows to let cooler air in. Finally, move your activities around to the more shaded parts of your home, according to the time of day.
Hot dog
If you have a dog or a cat, cool them down by rubbing their fur with a wet dish towel.
Iced treats
Drop ice cubes in your pet's water dish to keep the water cool. You can also freeze some canned food and use it as a frozen treat!
Forget coffee
Avoid caffeinated and alcoholised drinks as they tend to cause dehydration. Why not add lemon slices, mint leaves or small fruit to a pitcher of fresh water to give it a subtle taste and a pretty colour?
Your coolest fan ever!
Place an ice pack in front of your fan to help cool its breeze.
Escaping the oven
Avoid using a large number of heat-producing electric appliances, especially your stove. Heat waves are ideal for barbecue cooking. Enjoy a great meal without raising the heat level in your house by putting your food on the grill: vegetables, fish, Olymel sausages… There is so much to choose from!
---