---
Whether it's for a cozy dinner for two or an afternoon celebration with the whole family, having a barbecue takes a certain amount of organization. So here are five surprisingly ingenious tips for dealing with both the cooking itself and the organizing!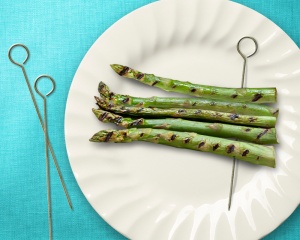 To stop meat from sticking, wait for the grill to get really hot and coat it with a little oil.
When putting brochettes together, use two skewers for each brochette instead of one. This way, the pieces of meat won't move around as you turn the skewers on the grill.
In the same vein, spike skinny vegetables like asparagus with skewers to make it easier to manipulate them during cooking.
To add flavour to your grilled foods, throw a handful of rosemary, sage or thyme onto the hot coals. Bonus: The scent will also drive away insects!
If you're grilling sausages, pre-cook them in boiling water for 5 minutes to reduce the cooking time and prick them to allow the fat to drain.
That's it! Now novices and barbecue kings alike have the inside tip on how to save time while enjoying barbecue season even more!
Discover our special barbecue selection by clicking HERE.
---