---
Having people over for the National holidays? Here are a few decorating tricks to help you create an unforgettable celebration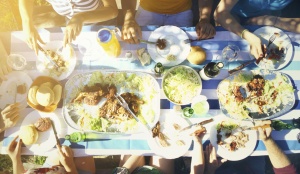 Are you entertaining family and friends in your yard to celebrate the St. Jean Baptiste holiday or Canada Day? Here are a few decorating tricks to help brighten up your home's exterior and, let's be honest, impress your guests!
To add light and decorate at the same time, put glow sticks inside inflatable balloons before blowing them up. Then hang the inflated balloons along your entranceway or around the yard for a look that's both pretty and useful. Choose blue and white for a St. Jean theme, or red and white for Canada Day!
Another more intimate lighting idea is to fill Mason jars to the three-quarter level with water, then place a floating candle in each jar. Voilà! Beautiful table centrepieces.
Plan ahead with a "sun and mosquito" station featuring a pretty pot filled with sunscreens with various SPFs and insect repellant. Your guests can protect themselves as necessary, whether against the sun or insect bites.
Get the kids involved in the party preparations by having them create a banner filled with drawings, which you can then hang in full view in the yard. This will keep the kids occupied while you handle your own preparations.
With regards to food, keep it simple. A good idea is to prepare a buffet featuring various dishes and recipes. Attractive yet inexpensive dollar-store pots work well for holding paper serviettes and utensils.
For simple recipe ideas that are easy to increase in quantity, click here

---