---
Throughout Quebec and across Canada, you'll find countless picnic parks where you can spend an hour or a whole day. Whether you're an urbanite who prefers to picnic in the neighbourhood park, or the type who would rather spread your blanket next to a wilderness lake, nothing equals the great outdoors!
Have you heard of SEPAQ? It's Quebec's largest network of outdoor destinations. Whether it's a Quebec national park, a wildlife reserve or a tourist resort, SEPAQ invites you to discover the wonders of nature, and picnicareas are included!

Parc national d'Oka, Basses-Laurentides region, Quebec
From the sandy lakeshore to the hilly hinterland, Parc national d'Oka offers excellent swimming and sunbathing, along withwalks through the wetlands, whereyou and your gang can admire wild animals and plants up close. Hike into the hills for a breathtaking view ofthe Lake of Two Mountains and the Adirondacks. Located near Montreal, this park is a major destination in summer… and the beach is especially busy!
You can purchase the Annual Parcs Québec card, which gives you and your family unlimited access to parks in all parts of La belle province.

Floralies Gardens, Montreal, Quebec
A treasured legacy of Montreal's FloraliesInternationales horticultural fair in 1980, these gardens, at the heart of Parc Jean-Drapeau on Ile Notre-Dame, are home to tens of thousands of annual flowers, for a picnic setting that's both enchanting and romantic. The park also offers plenty of other activities, including a sand beach (not free) and the Biosphere.
Season passports are also available.

Parc de la plage Jacques-Cartier, Quebec City, Quebec
At the heart of Quebec's capital, you'll find a mile-long beach where you can bask in the sun and enjoy a picnic. You can also take a walk through the old-growth forest, one of the few such places open to the public along the Saint Lawrence River. Don't forget the binoculars! This park is a paradise for observing magnificent birds.

Parc national du Mont-Tremblant, Laurentides region, Quebec
This Quebec national park contains six major rivers, 400 lakes and brooks, 40 species of wild mammals, as well as a huge variety of activities throughout the year. Enjoy a picnic on the shore of Lac Monroe, or at a spot along one of the countless trails winding through the woods. Swimming, camping and guided nature walks are also available.
You can purchase the Annual Parcs Québec card, which gives you and your family unlimited access to parks in all parts of La belle province.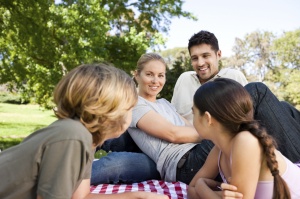 Fort Lennox National Historic Site, Saint-Paul-de-l'Île-aux-noix, Quebec
Located on Ile-aux-noix in the middle of the Richelieu River, this expansive park offers plenty of adventure, including an old British fort that promises to delight the youngsters. The island is accessible only by ferry, included in the price of admission. When the breeze blows across the island, you'll see, it's magical!

Gatineau Park, Gatineau, Quebec
Located across the river from Ottawa, Gatineau parkoffers innumerable lakes and walking trails, as well as picnic areas with barbecues and plenty of forest and lakeside scenery to enjoy. In particular, we recommend Pink Lake.Though it's a little more remote, you'll be enchanted by the colour of the waters, which, oddly enough, are turquoise!

Bluffers Park, Toronto, Ontario
This spectacular park cherished by Torontonians offers a sandy beach, picnic areas and plenty of walking trails with views over the sandstone cliffs. Sporting activities for the whole family include swimming, volleyball and sailing. Bring along good walking shoes, since you'll definitely want to discover the spectacular trails.

Albion Hills, Caledon, Ontario
Like SEPAQ in Quebec, the TRCA (Toronto and Region Conservation Authority) offers a network of parks and wildlife reserves for fans of the outdoors and nature. You'll definitely want to explore Albion Hills Conservation Area, with its lake, ten picnicking sites and plenty of activities, including swimming, volleyball, camping, etc. Remember to bring the camera!

Tribune Bay Provincial Park, Hornby Island, British Columbia
Nicknamed "Little Hawaii", Tribune Bay Park on Hornby Island will win you over with its endless seaside beaches and turquoise waters ideal for swimming. A picnic area is available for day visitors. Remember that you'll need to take two ferries to reach the park from Vancouver, but it's worth the effort!

Battery Provincial Park, Cape Breton, Nova Scotia
Open from June to September, Battery Park offers a vast open-air picnicking space, as well asan unsupervised beach. On the walking trails, which will captivatenature enthusiasts and history buffs alike, you candiscover a lighthouse, the ruins of two historic forts and an old lime kiln. Fun and educational!
---