---
Are you going on a picnic for a couple of hours or for the whole day? Have you already planned a tasty menu featuring Olymel products? Because it's so easy to forget something, here's a checklist you can print out, to help you prepare a flawless picnic and take to the road with peace of mind.
Essential accessories
Picnic carrier (basket, tote, backpack, etc.)
Cooler (if your picnic carrier isn't insulated)
Several freezer packs
Blanket or tablecloth (in case the picnic tables are all occupied)
Dishes (plates, glasses and utensils)
Sharp knife, can opener, bottle opener, small cutting board (if needed)
Roll of paper towels for spills. Use them for napkins as well, to keep things simple.
If you're serving wine, remember the corkscrew and wine glasses.
Umbrella or sunshade, in case of rain or to protect yourself from the sun
Sunglasses
Insect repellent lotion
Citronella candles, if you're picnicking in a wooded area or near the water
Sunscreen, for kids and adults
Damp cloths in a plastic bag
Garbage bags
Plastic containers for leftovers, if necessary
Planning a barbecue in the park? You'll also need to bring the following:
Portable barbecue (if required)
Aluminum foil
Barbecue utensils
Charcoal briquettes
Tools to make a fire: lighter, newspaper, fire starter gel, etc.
Bottle of water to douse the fire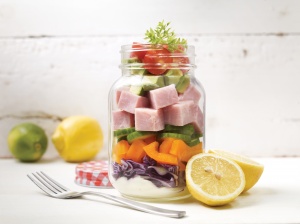 Leisure activities
Games for everyone (balls, Frisbee, etc.)
Music
Books
Binoculars
Beach towels and swimsuits for sunbathing or swimming
Ball caps or hats
Sunglasses

Managing your picnic carrier or cooler
Before
Freeze a few plastic bottles filled with water or juice, which willhelpkeep your food nice and chilled.
If you're planning a barbecue, remember to store your Olymel European sausages or smoked sausages, as well as any raw meat or poultry, in airtight containers, to avoid contact with your other food.
Store your meat or poultry at the bottom of your insulated picnic carrier or cooler. Add remaining items in the opposite order in which you intend to use them, with drinks and snacks on the top.
Always place frozen bottles of water or juice, as well as freezer packs, on the top, since cold air sinks to the bottom.
While on the road, store your cooler or picnic carrier in the coolest part of the car.
When you arrive at your destination, remove your picnic carrier or cooler from the car and keep it in the shade. Open it only when necessary. For drinks, consider takinga separate mini-cooler.
After
Once you've finished eating, store your leftovers in your picnic carrier or cooler.
Before leaving the park, dispose of your waste in the containers provided for this purpose.
---