---
It's back to school time and, among the long list of necessities you'll be buying for the kids, the lunchbox figures prominently.
In today's lunchbox universe, you'll find a wide selection of materials and designs available on the market… enough to confuse even the most determined parent.
Here are a few helpful tips on making a great choice for your kid's lunchbox. Why not get one for yourself while you're at it? You'll save a lot of money on eating out!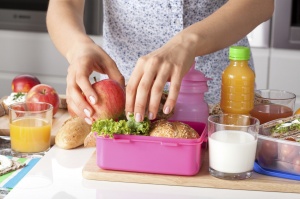 FOR ADULTS
Say goodbye to brown bagging it: today's lunchboxes are both spacious and well designed. Two types are currently seeing a rise in popularity.
Bento or Japanese meal boxes
In essence, these are segmented boxes in which different sections accommodate a variety of different foods as part of a complete meal: raw veggies, dip, sandwich, salad, fruits, dessert, etc.
Some bento boxes are made from dishwasher-safe plastic. Other designer versions are made from wood or metal and lend an aesthetic quality to any meal. You can even buy a bento box with stackable trays.
For the "luncheonista" in you, THE must have lunch bag is made of trendy neoprene, the same material used in diver's suits.
There are some serious benefits to neoprene: it's vinyl- and PVC-free, it keeps food hot or cold for up to 4 hours, it's machine washable, the bags fold flat and they tend to look like pretty little handbags.
FOR THE KIDS
When it comes to a lunchbox for Junior, today it's all about sustainability. So say goodbye to disposable juice boxes, hello plastic beverage bottles with built-in straws.
More and more environmentally conscious parents are turning to reusable plastics, cloth napkins and washable utensils.
Before picking your child's lunchbox, it's always a good idea to pick out the accessories first: reusable containers, bottles, utensils, etc. By getting the lunchbox last, you will be sure it will be big enough to accommodate all those adorable little containers you bought.
The latest accessories
Want to remind Junior to eat his veggies or to bring home all his containers? Simply write a note on a magnetic minipad that sticks on his backpack or lunchbox.
Another popular item: insulated sacks and bottles monogrammed with today's most popular names, from Emily to Zachary. Cute, practical, and most of all, (almost) impossible to lose.
To be avoided
It made headlines for all the wrong reasons: biphenyls present in plastic containers may be harmful to your health. How to get around it? Look for containers with the plastic designation numbers 2, 4 or 5 inside the triangular symbol marked on the bottom. These will be safer bets.
For tantalizing lunch ideas to put inside your shiny new lunchbox, click here.
---