---
Tricks to help your move go just a little bit smoother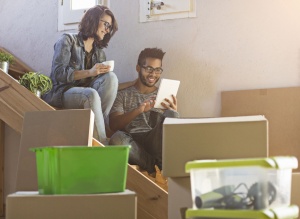 Moving season has arrived, and with it comes the excitement of creating that perfect, all-new home you always wanted! Yet often the fuss and bother this creates can verge on the chaotic. Whether for couples or families, there is usually so much to do, things can get a little overwhelming! So here are seven organization tips to help you bring a little order to your move.
Get a head start! Empty your house as much as possible before moving day in order to reduce the volume of things to move. In the same vein, hold a garage sale to get rid of unwanted used items that might still be useful to someone else. Ask your kids to get involved by asking if they have any toys they no longer want and would like to try and sell. Or you could ask them to serve lemonade to entice potential customers!
To prepare your boxes, use adhesive tape in different colours for each room of the house. For example, boxes with yellow tape go in the kitchen, those with blue tape in the bathroom, etc. Create a colour legend on a piece of paper and hang it in the entrance of your new abode to help the movers find the right room.
To protect fragile objects, roll them in dishtowels, napkins and pillowcases in order to keep your paper towel and newspaper use to a minimum.
Speaking of boxes, create a box called "FIRST DAY" that contains everything you need during your first day in your new home: rolls of paper towels; wet wipes; a set containing one dish, one glass and utensils for each member of the family; a first aid kit; etc.
To protect your mattress, cover it with two fitted sheets – one on the top and the other covering the bottom!
If you have pets, be sure to keep them in a calm place, like a closed room, to avoid stressing them too much. Or even better, drop them off at the home of a friend or family member for the day. Also, don't forget to change the address on their identification tags.
Use a cooler to store food for making a light yet satisfying lunch for your family and – why not? – for the movers too!
For recipe ideas from Olymel that are easy and quick to make – perfect for moving day – click here!

---