Pork eye of round medallions with caramelized apples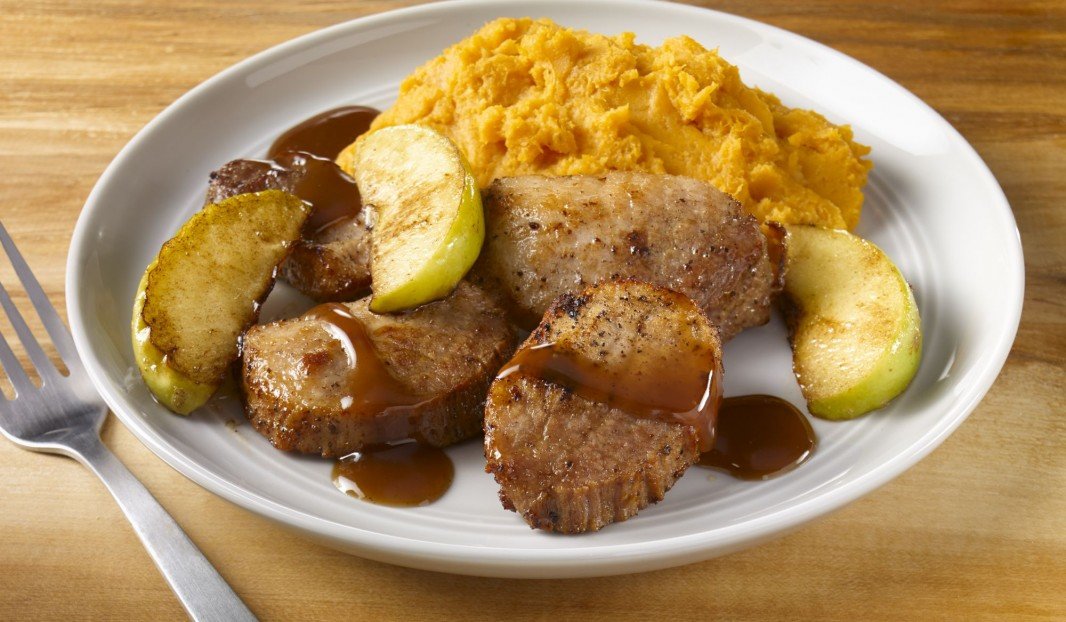 ---
---
preparation time
00:15 15min
---
---
---
ingredients
1 package Olymel pork eye of round
30 ml (2 tbsp.) canola oil
275 ml store-bought demi-glace sauce
2 Cortland or Granny Smith apples, peeled and quartered
45 ml (3 tbsp.) maple syrup
15 ml (1 tbsp.) cider vinegar
30 ml (2 tbsp.) butter
½ tsp. cinnamon
½ tsp. ground nutmeg
¼ tsp. ground cloves
Salt and fresh ground pepper to taste
instructions
Cut pork eye of round into 12 equal medallions and keep refrigerated.
Heat the demi-glace sauce, keep warm.
Heat a frying pan with butter and 15 ml (1 tbsp.) olive oil, add apple quarters and cook stirring occasionally for two minutes. Add the syrup, vinegar and spices, cook until mixture thickens, add the demi-glace sauce and keep warm.
Salt and pepper the medallions.
Heat the remaining oil in a large frying pan over medium high heat and cook the medallions, turning once halfway through cooking and cook until the internal temperature reaches 165°F (75°C). To avoid drying don't overcook.
Serve the medallions accompanied by the sauce.
---