---
Have you ever eaten a snack and noticed that you were hungry five minutes later? The secret lies in the kind of snack you choose. It's quite simple. Eat small portions of good food.
Olymel deli meats are the perfect ingredient for simple, healthy snacks that are both filling and delicious! They are high in protein, which makes them a valuable ally in tackling hunger between meals.
These are our favourite recipes for snacks that are easy to prepare and delicious.
---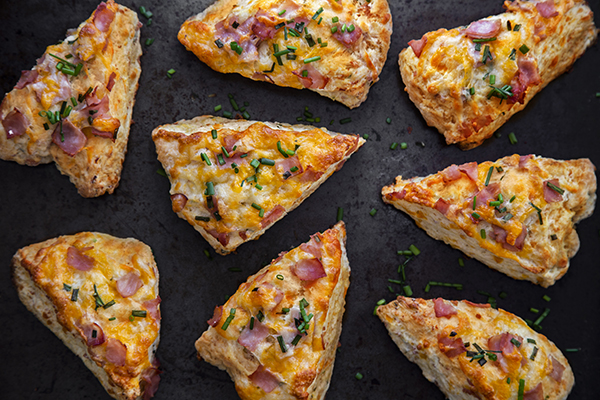 Black Forest ham and cheddar cheese scones
When you add protein like delicious nitrite-free Black Forest ham, scones become a snack that disappears fast. This is the ideal scone recipe for anyone who loves deli meats.
Portions: 8 scones
Ingredients
1 pack of Olymel nitrite-free Black Forest smoked ham, coarsely chopped
2 cups of all-purpose flour
1 tablespoon of baking powder
1 pinch of salt
1 tablespoon of sugar
1/2 cup of unsalted butter
3/4 cup of milk
1 egg
1 cup of grated cheddar cheese
A few sprigs of chives, chopped
Preparation
Heat the oven to 425°F.
In a large bowl, mix the dry ingredients (flour, baking powder, salt and sugar).
Add the butter to the dry ingredients and mix until you have a uniform and firm dough.
In a cup, beat the egg and milk until they are thoroughly combined.
Add the egg and milk mixture to the dry ingredients and then add ¾ of each of the Black Forest smoked ham, grated cheddar cheese and chopped chives. Mix well.
Turn the dough out onto a lightly floured smooth surface and knead until you have a flattened round that is approximately 8 inches wide and 1 inch thick.
Sprinkle the Black Forest ham and the remaining grated cheese and chopped chives on the top of the dough.
Cut the dough into 8 triangles.
Cover a baking sheet with parchment paper. Place the scones on the sheet and bake for 18 to 20 minutes.
These scones are best eaten fresh from the oven or within two or three days.
---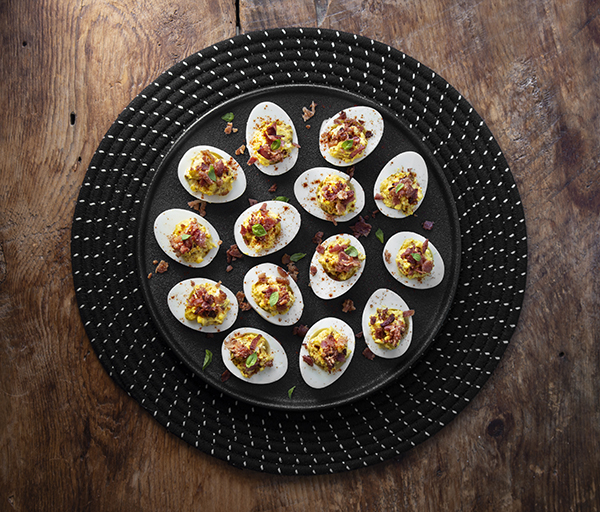 The ULTIMATE deluxe stuffed egg recipe
Stuffed eggs are also known as devilled eggs because they're devilishly good! Pop these stuffed eggs in your lunch bag or serve them at a holiday buffet and watch how fast they disappear. We don't want to brag, but this is the best version of these little indulgent snacks.
Portions: 24 egg halves
Ingredients
200 to 300 g of Olymel sliced salami, coarsely chopped
200 to 300 g of Olymel naturally smoked bacon with 33% less salt, coarsely chopped
12 eggs
2 tablespoons of mayonnaise
2 tablespoons of regular or Dijon mustard
A few pinches of smoked paprika
A few leaves of fresh basil
Salt and pepper
Preparation
Place the eggs in a pot of boiling water. Allow to boil for 12 minutes and remove from the water. Plunge the eggs into cold water for 5 minutes. Remove the eggshells, keeping the eggs intact. Set aside.
In a pan, cook the bacon and salami for 5 to 7 minutes over medium-high heat until crispy. Spread out on a paper towel-lined plate.
Carefully cut the eggs in half and remove the yolks.
In a bowl, mash the egg yolks and mix with the mayonnaise, mustard and ¾ of the bacon and salami. Add salt and black pepper to taste.
Fill the egg halves* with the egg yolk mixture.
Garnish each egg half with the remaining bacon and salami mixture, smoked paprika and basil leaves.

*Tip: In order to make the devilled eggs easier to handle and avoid them sliding off your plate, you can cut a slice off the bottom of each egg half.
---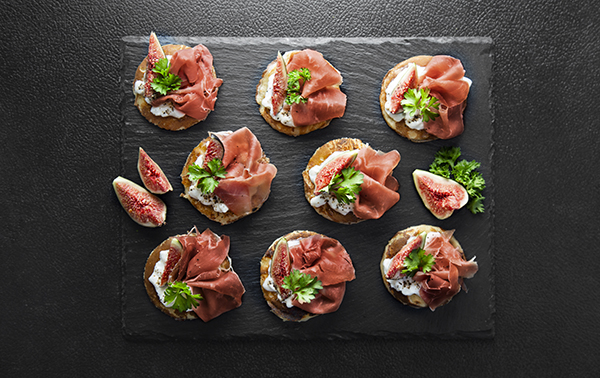 Blinis with cottage cheese, figs and Serrano ham
Are you familiar with blinis? They are small round pancakes that are usually served with savoury accompaniments.
This recipe calls for Greek yoghurt and a generous portion of deli meats, which adds a substantial hit of protein.
Portions: 12 blinis
Ingredients
For the blinis:
1 1/4 cups of plain or vanilla Greek yoghurt**
1 cup of all-purpose flour
8 g of instant dry yeast
2 eggs
A pinch of salt

*Note: You can buy blinis in the grocery store if you're short on time.

**Note: Make sure that you choose Greek yoghurt with at least 2% fat content. Greek yoghurt that contains 0% fat is not suited to this recipe.
For the garnish:
1 pack of Olymel Serrano ham (100 g)
1/2 cup of cottage cheese (125 ml)
3 fresh figs, cut into quarters
2 tablespoons of honey or maple syrup
A few parsley leaves, chopped
Black pepper to taste
Preparation
Mix all the blini ingredients together in a bowl until you have a smooth batter. Refrigerate the batter for 1 hour.
Remove the batter from the fridge. Heat a little vegetable oil in a non-stick pan over medium-high heat.
Using a ladle, spoon small circles of blini batter into the pan. Cook for 2 to 3 minutes until bubbles form on the top of the blinis and then flip them over. Cook for another few minutes until the blinis are golden and remove from the heat.
Spread the blinis out on a plate. Spread cottage cheese on each blini and sprinkle with honey, Serrano ham, fig quarters and chopped parsley. Add black pepper.
Serve immediately!

*Tip: We suggest garnishing the blinis just before you serve them. If you would like to pack blinis for lunch, wrap the blinis and garnishes separately and assemble before serving.
---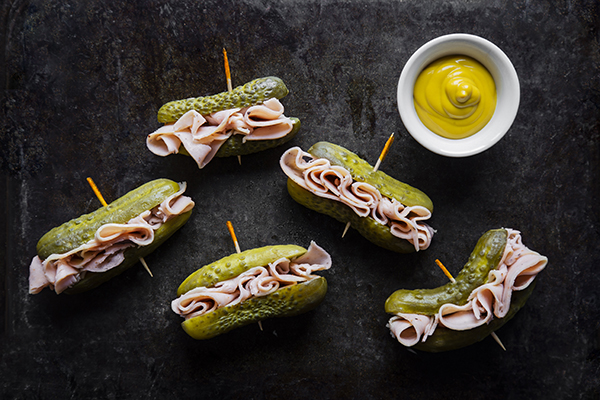 Mini Montréal sandwiches with pickles
This Olymel twist on a traditional Québec recipe is inspired by Montréal smoked meat sandwiches. Everyone who loves pickles and deli meats is sure to ask for seconds!
Portions: 12 mini sandwiches
Ingredients
Preparation
Cut the pickles in two, lengthwise.
Place slices of smoked meat style turkey breast between two pickle halves. Feel free to use toothpicks to hold the mini sandwiches together.
Dip in mustard and enjoy!
---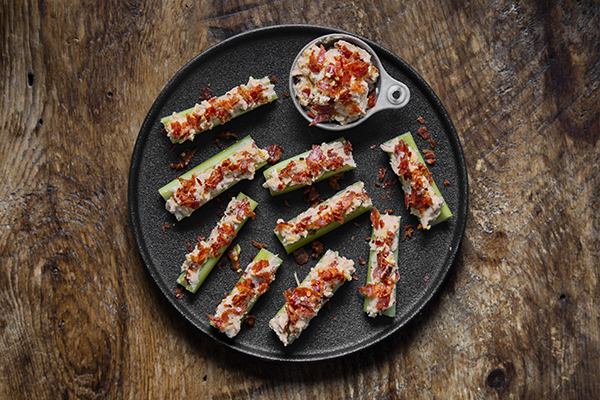 Celery sticks with spicy cheese and chorizo
We've already proven that it's possible to make meat lovers crave vegetables! This quick and easy recipe adds a delicious touch of spice to your lunch.
Ingredients
1 pack of Olymel dry chorizo sausage (100 g), finely chopped
1 head of celery, cut into 5-cm pieces
1/2 cup of cream cheese (at room temperature)
1/2 cup of grated cheddar or blue cheese*
1 teaspoon of spicy sauce such as Sriracha (optional)
A pinch of chili flakes (optional)

* If you opted for blue cheese, use a little less cream cheese.
Preparation
In a pan, cook the chorizo for 4 to 5 minutes over medium-high heat until crispy. Spread out on a paper towel-lined plate.
In a bowl, mix the cream cheese and cheddar cheese until the cream cheese is relatively smooth and the cheddar has been thoroughly combined.
Add 3/4 of the chorizo and spicy sauce (optional).
Garnish the celery pieces with the cheese mixture and the remaining chorizo.
---
Now you can take on your day with a full stomach and happy taste buds. You might like these snacks so much that you'll just graze on snacks all day long. We're speaking from experience!
Enjoy!
---